I thought I'd start a new little segment of random garbage I've compiled from all the gossip blogs I peruse. You see, whenever I hear a juicy tidbit of celebreality gossip I instantly want to go share it with someone, but the two people I usually share random tidbits with, Hubby and my brother, do not care for anything Bravo. Sadly, Hubby has been forced to watch Housewives with me and is familiar with all of the characters, but my brother doesn't even know who Andy Cohen is. Egads! Right? And so I figured I have the perfect forum here to share all the excitement that I cannot contain.
Don't judge me. Moving on...
Apparently Jenny McCarthy and Melissa McCarthy are cousins! Yes, the Singled Out co-host (Has she done anything else since then other than date Jim Carey and proclaim immunizations caused her son's autism?) and the Oscar nominee share the same family tree! There's some story out today about how some Hollywood hot shot criticized Melissa McCarthy for being fat and so Jenny came to her aid to defend her. Hmm, sounds like a publicist recommendation, on Jenny's behalf, to get her name out there to promote her apparent new talk show.
Source
Looks like two of Housewives breakout stars are biffles! And no the friendship is not pure publicity, apparently Bethenny and Kyle go back twenty years. Back in her 20s Bethenny was living in LA doing the acting thing where she met Kyle because she was dating Kyle's ex. Bethenny was a hostess at a restaurant where Kyle was dining at and B sat down next to Kyle and asked her if she wore Lancome makeup remover. Why, you may ask? Because it was in the bathroom of her boyfriend's apartment. Weird. Since then they became best friends. Odd combo. Personally I thought the two would be nemesi, very strong female personalities often repel. Then again, Kyle is good friends with Faye Resnick.
Source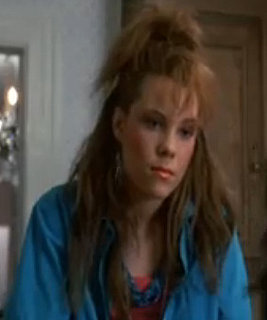 This is a bit of old news, but Hubby and I recently found this out, but Blake Lively's half sister is Robyn Lively from the 80's hit Teen Witch! Robyn's been in quite a lot of movies and television shows since then, but unfortunately didn't make it to A-list status and a celebrity marriage a la her sister. This was almost as exciting as seeing a young Brenda Walsh in the movie Girls Just Want to Have Fun! Ok, so maybe not that exciting.
Source
That's all for now. If you find any titillating tidbits and are itching to share it, drop me an
email
or tweet me at @thetiffingirl.
Images
Tiffin of snacks
Jenny and Melissa McCarthy
Kyle and Bethenny
Blakey and Robyn Lively
Teen Witch
Shannen Doherty