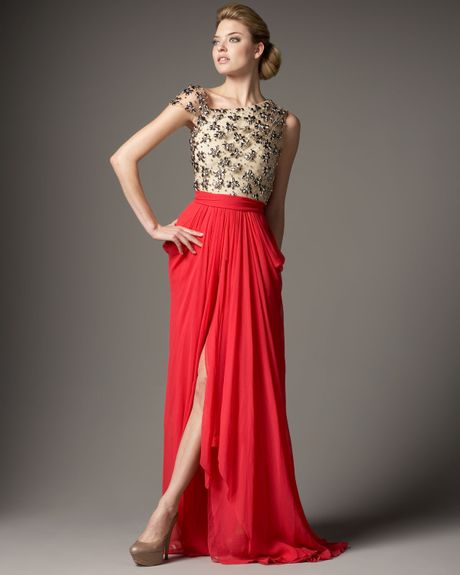 The words Naeem Khan were never foreign to me, it was just another designer that was mentioned on the red carpet who my ears perked up to because it was an Indian name. (Always have to give kudos to Indian American success stories!) It wasn't until I was watching Real Housewives of New York City (Go figure, all roads point to Bravo in my world) that I became familiar with the brand. Naeem Khan's wife, Ranjana, had a reoccurring role on the show as Carole Radziwill's good friend. Ranjana has her own jewelry line which she seemed to be using the show as a platform to advertise said jewelry. I'm not sure why considering she is married to a man that is in the upper eschalon of fashion society, why does she need to go on a reality show to hock her jewelry? Is it sold at Charming Charlie? Seriously, who does she think comprises the demographics of Bravo viewers? Have you listened to the callers on Watch What Happens Live?
Anyways, I found her jewelry to be quite chunky and gaudy with a bit of delicate to tone it down. Some pieces were beautiful, while others I just didn't care for.
Love!
Adore!
Negative.
These statement pieces are very intricate and bedazzled, perfect to juxtapose against a simple black dress or really any simple solid dress.
And so I was intrigued to check out her husband's work. In the reunion taping of Housewives of NYC there was some fodder about Luann asking to borrow a Naeem Khan gown only to be shunned for asking a man of his stature, who loans out clothes to Michelle Obama to wear his clothes for a tabloid fluff piece. The nerve! At least someone realizes that Naeem Khan is not a man that should be showing his face on a show about middle aged women grabbing on to their last chance in life for some fame.
And so I went to check out some of his work and I fell in love. Literally, his dresses are so stunning and beautiful. I love how he takes his Indian roots but marries them with modern, American silhouettes to create gowns. The colors, the sparkles, the styles, oh my!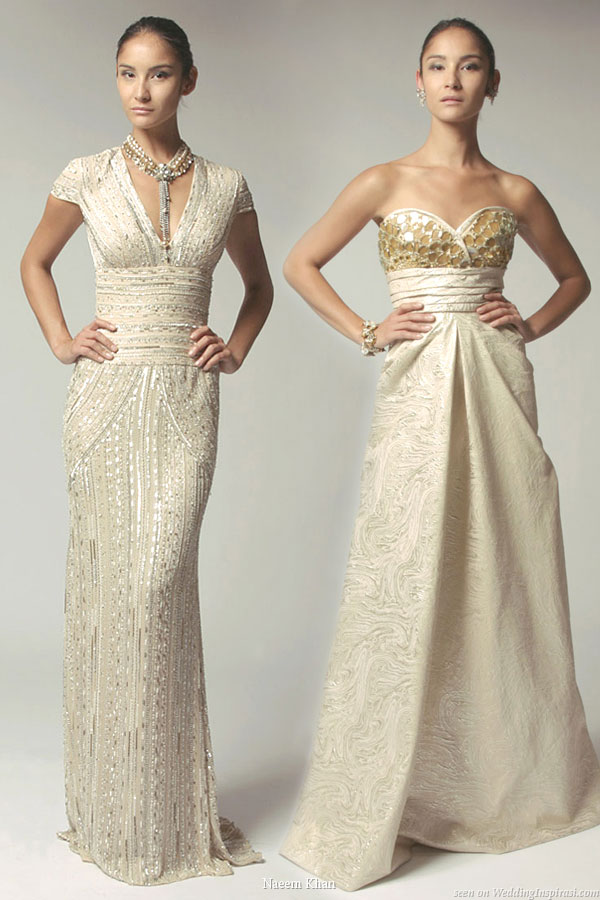 And he's not a designer that is a hidden gem, oh no, he's well known among celebrities for his work.
Our fashion forward FOTUS has really put Khan's name on the mainstream map, she's known to have worn his gowns on multiple occasions.
Michelle Obama
And plenty of other celebrities have strutted their Naeem Khan dressed stuff on the red carpet.
Carrie Underwood
Nikki Reed
Hannah Simone
Nicole Richie
Eva Longoria
I love how he can diversify his style, while at first I thought it was all bling and pizzazz (which I loved) he's also able to minimize the glamour factor yet still turn out an amazing dress. And the color, the rich, vibrant colors are so beautiful!
As I was looking at Naeem Khan dresses the word bridal came up numerous times. I don't believe he designs wedding dresses, but I do see how many of his dresses could double as a wedding gown.
This dress is absolutely stunning. It truly personifies what I adore in this designer. It's so reminiscent of Indian garb, but westernized to be worn without looking too culturally displaced.
This is a dress I would have considered wearing to my own wedding reception (I wore a separate sari to the wedding and reception). Indian style but somewhat Western, love the fusion of the two cultures.
Or maybe I would have worn this dress. Would three costume changes have been too much?
And so why did someone married to a man of such craftsmanship show her face on Bravo? To be Ranjana Khan, married to such a talented and skilled man must be like being married to the CEO of Godiva, can you imagine what her closet looks like? Dark chocolate, milk chocolate, nutty chocolate! Yumm. Why waste your time with Ramona the Pinot lush Singer when you could be spending your time hobnobbing with the first lady wearing the golden jewels of clothes?
.
Ranjana and Naeem Khan


And so no, I will never purchase a Naeem Khan gown. Firstly, I cannot fathom the price of such a gown considering celebrities borrow said gown to wear to paparazzi filled events (Although, Michelle Obama has also been known to wear White House Black Market and J Crew.). And secondly, where would I wear a bedazzled, sequined, golden, long off the shoulder garb? To H-E-B to buy some broccoli? Or to Goodyear to get my tires rotated? Seriously, there's a reason why the price is so high because the average person doesn't have as many events to wear this to as does a celebrity, who normally doesn't even pay for the gown!
So I will be tacking an image of a Naeem Khan gown on to my virtual dream board next to a photo of a red carpet, because if I get the gown, could I also get an invitation to attend the Oscars next year?
Click below for image sources.
Images