Rachel Zoe's VP was cast for the wrong show!
With the new season of Rachel Zoe starting this past week, I found myself watching some of the older seasons in reruns that have been continuously playing. I have never been a fan of Rachel Zoe, but somehow in midst of a Housewife crisis I found myself finding solace in a different avenue. One might say to change the channel, I say to invest my time in a non-Housewife Bravo shows, thus the Rachel Zoe project. Anyways, I noticed in the last season her VP, who you may have missed by the blunt bangs covering her eyes, looked of a non European descent. Her bangs are a little better this season but after hearing her name is Mandana, I did a little research curious if she was Indian or half Indian. I found out she was Persian! Bravo, why did you not cast her on Shahs of Sunset?! And then I realized that since The Rachel Zo Project is one of Bravo's originals, perhaps it has not adopted the faux-reality concept that their newer shows have acquiesced and its quite possibly that she legitimately works for Rachel. A shame, somehow I think her wit and style would go head to head with Lilly!
Is Oprah's Boyfriend Working for the Prez?!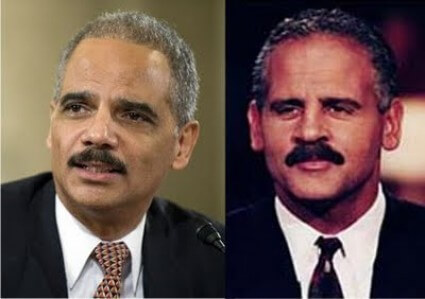 I was watching the news when a flash of our Attorney General flashed before us. What?! Oprah's boyfriend, Stedman Graham is in political office? I knew there was a reason Oprah was so chummy chummy with the Obamas! But then they mentioned his name was Eric Holder and I knew that wasn't our beloved Stedman, but come on, how alike do these men look?!
And Lastly, Michelle Obama's Imitation Is Far Too Familiar
Ok, so I know this video came out weeks ago. I know this because I got this in an email from my Uncle about a week ago and I like to think that it takes a little longer for an older generation to catch on to something viral so imagine my shock when I received this hilarious video from my Uncle and I had yet to see it? Perhaps retirement negates said principle? Regardless, the FLOTUS's dress and dancing style reminds me of myself dancing with the kiddos to what we refer to as Dance Party (Specifically "Just The Hands Part of Single Ladies"). Of course, I dream to one day have the Dougie down like 'Chelle and I only wear J Crew for special occasions, so maybe I'm embarrassed because it's who I strive to be?