Summer is quickly approaching which means one thing in the eyes of a child, the pool is open! While the pool is open May through August, the splash pad is open April through October. And while I don't plan to run around the splash pad in a bikini, I do anticipate having to run after Bambino who I'm assuming will be walking come April so I will be scampering after him at the splash pad. Rather than run around in hopes of dodging one of the large buckets that turns 180 degrees and splashes water on a lucky mother who is running to discipline their child, I'd rather just have a suit on to be safe. And thus my need for a new bathing suit. My current bathing suit collection consists of two maternity bathing suits (tankinis) and one non maternity tankini that is six years old. I think it's time for an investment, don't you?
Now I am not one who enjoys romping around in a bikini. I am far too modest and a touch insecure to be prancing around in string bikini and can't image running after children with fear of someone pulling on the string out of curiosity and you get an eye full of Mama, now no one wants to see that. Granted, if I were confident and comfortable with my body I would totally rock a bikini, but that is not me, but power on to all the mamas that do!
As I began my possibly unrealistic bathing suit hunt, I started to think of just how far bathing suits have come. I recall when I was a child it was bikini or bust (Inappropriate pun?). One pieces were around, but if you wore a one piece it wasn't as cool. So if you were a person who wasn't comfortable with her body, you wore a t-shirt over your bathing suit and went in the water, or you wore shorts or both. Nowadays there's so much variety that looks chic. (Or maybe I'm just older and my perception has changed?) One pieces, bottoms that double as skirts, boy short styles, high waist bottoms they are all more conservative and also in style!
And so I started thinking about what I wanted in a bathing suit, and I realized that this was going to be a difficult task considering I don't want to bare my midriff, I definitely need straps (who wants to be tugging up a bathing suit with a one year old hanging on your hip and most likely helping it go with gravity), but I don't like the bra top look of bathing suits and I want high quality support, nothing with flimsy material. (Sorry, Old Navy, you did not hold up your end of the bargain when we were body surfing in Hawaii.) So basically, something conservative, highly supportive, casual and trendy. Should I call off the hunt now? Am I just in search of a purple polka dotted unicorn?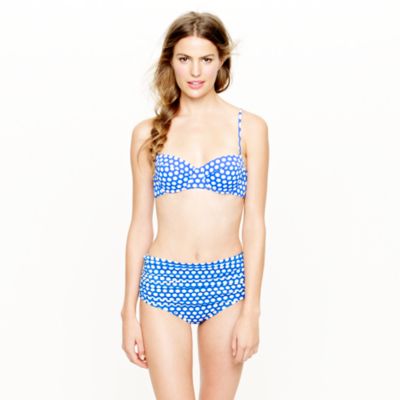 Call me crazy, but I actually like the high waisted bottoms, I feel like they can come high enough to cover my two baby pouch. The top looks pretty supportive, but possibly bra type. The print is doable. Overall it's very retro, reminiscent of a 60s Taylor Swift bathing suit. (
J Crew
)
So I like the idea of a swim dress when running around with kids, lots of coverage and and confidence because of the the coverage. I love how it doesn't cling, but will it when I get out of the water? (
Calvin Klein
)
I love the white color, the tummy control panel and the halter style for full support. It definitely passes the confidence test of walking alongside the pool. Where has a tummy control panel been the past twenty years? (
Norma Kamali
)
Here's another Norma Kamali that is similar to the above swimsuit, except that this is a tankini with a high waist bottom and a cropped top. Or so I'm assuming it's cropped and the bottoms are not pulled over a long tankini? Regardless, love the ruching on the high waist bottoms, perhaps could be paired with a bikini top? (
Norma Kamali
)
Perfect one piece style with support and a ruffle around the mid section to hide the tummy! Love the coral color, very summery. And definitely passes the confidence test. (
Badgley Mischka
)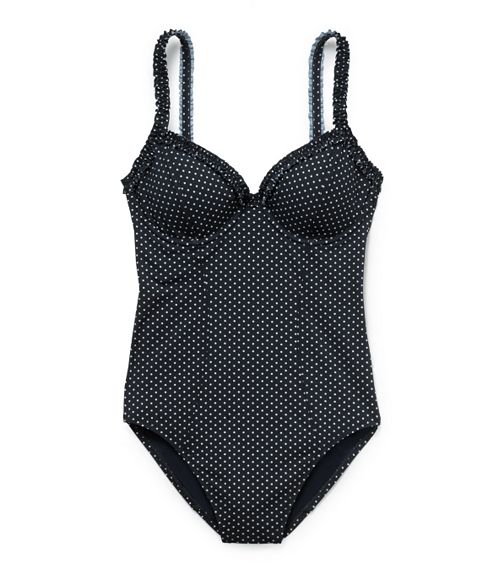 Love the one piece, ruffle and polka dots, the dots really bring down the casual factor of the black color and also give it a little personality. And it's conservative, perfect! (
Tory Burch
)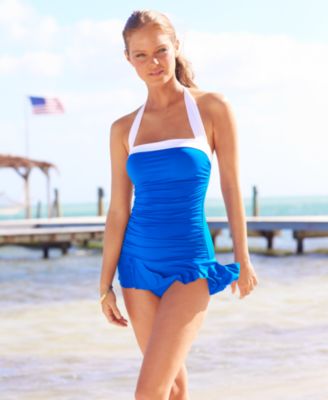 It's another swim dress! This one kind of looks like a tennis dress, but I do like the style and the ruching around the belly. (
Ralph Lauren
)
And yet another swim dress! Who knew this style was so pervasive! This may possibly be my favorite of them all because of all the coverage, but I worry that when that loose area gets wet it is going to cling straight to my no-no area. (
Athena
)
This tankini is actually very similar to my Target maternity bathing suit, does this give me the green light to continue wearing said bathing suit? (
Michael Kors
)
I adore the one shoulder ruffle, but is it too 2010? Otherwise everything looks to be covered up. The print is questionable, but I do love the style. Were it in one solid, light print I'd forgo the dated silhouette. (
DKNY
)
I have a strange affinity to this dress. Strange in that it has a plunging neckline and a completely bare back, not my cup of tea. Initially it seems conservative, but then the entire back is exposed. I don't know, I love it and think it's conservative, but then at the same time oh-so-risque? Ultimately, I feel it's more Vegas than kiddie pool. (
Michael Kors
)
Have you recognized my love for a good ruffle? I love the color and the halter. Add in the quasi-tutu and just color me giddy. Not sure if I could confidently sport the ruffles (they're on the back also), but this is definitely a "cute" moment. (
Marc by Marc Jacobs
)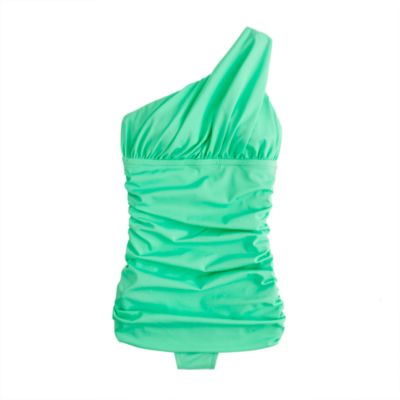 Is the one shoulder look getting dated or not? I love the tummy ruching and the coverage up top. Full coverage but I'm not sure about how classic the one shoulder look is. Can I still wear it in two years? (
JCrew
)
I was a little confused if this was an actual bathing suit or not, but it's in the swimwear section and is made of some material referred to as
magicsuit.
If so, I love this! Assuming there's a lining on the bottom half, it's a great style, loose yet looks comfortable! (
Victoria's Secret
)
I really like this blouson top with bottoms separate. I worry that it may accentuate the obvious, but is it worth it for the coverage? And what's the situation when it gets wet? (
Athena
)
I really adore the paisley print and what appears to be a tiered area below the bust. I would pair it with a plain green bottoms. This one most realistically looks my style. (
Alex Marie
)
Sadly, after this exhaustive search of finding suitable bathing suits that I believe will be a good fit, in reality if I tried every bathing suit out probably only one suit will hit my three C's, confidence, comfortable and chic. Ok, drop the chic, I'l just go with confidence and comfortable.
Dare I order any of these online only for it to not hit the C's and I have to pay to return it? Am I just going to end up driving around the corner to Old Navy to purchase my suit? I hang my head in shame and say yes.
Images