The Real Housewives of Orange County was where the Housewives franchise all began. It was a humble show, capitalizing off the obsession with wealth in Southern California after the boom of the modern take on Beverly Hills 90210, The OC. It was kind of like Laguna Beach for older women. (I do recall Laurie once mentioning that the father of a Laguna Beach cast member was courting her! Don't ask me why I retained that random piece of knowledge.) The women weren't as vicious and insecure and Slade had more money than gray hairs. It was basically a documentary of women showcasing their lives in Orange County, whether they had money (Jeanna and Vicki) or they once had money (Laurie) or they were hoping to marry into some (Jo). It was a simple show that attracted a lot of viewers and basically catapulted Bravo, Andy Cohen and a slew of Housewives shows.
As the seasons progressed so too did the cat fights The show didn't originate about relationships between the women, but rather about living life as a Housewife in Coto de Caza with an occasional get together. As the seasons continued, the women started playing musical chairs and each season brought in a new cast member who would inevitably file for foreclosure and divorce, no order in specific.
But as fame ballooned the egos of these ladies, their skin became more spray tanned, the extensions grew longer and the realization that drama fuels ratings and security in their job so the women competed to have a coup for Regina George's position as head of the Plastics, but careful not to be overly cruel for fear that the public would just dethrone them a la Jill Zarin in RHONYC. And there were causalities that could not handle Vicki and Jeanna's Queen Bee status, including Kimberly Bryant, Jo De La Rosa, Quinn Fry, Tammy Knickerbocker, Lauri Waring Peterson, Lynn Curtain and Peggy Tanous (Wow there were a lot!). Whether it was the cattiness of the other women, or divorce or bankruptcy or fear of the dreaded curse upon the Housewives of OC there was quite the revolving door that never really captured the draw of season one and two of RHOC.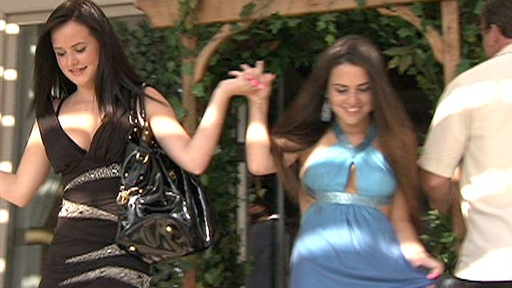 At times the show was just hard to watch. Seeing Lynn's daughters receive an eviction notice or watching Tamara scream at Simon that she wanted a divorce only for the two to divorce once the cameras were down, the show just went to a place that was uncomfortable to watch. Reality was actually setting in for these ladies and it appeared the show was heightening issues in their lives that would have eventually fallen apart.
And the fights! The women were arguing about topics that should just be off limits. When Gretchen went to Lynn's daughter (when Lynn wasn't around) and told her she was worried about her and was always there for her if she needed help was completely awkward or Vicki calling out Jeanna for letting her children sleep with their partners in her own house was completely inappropriate! What happened to the silliness of Kimberly going car shopping and trying to decide between a Ford Expedition or a Lexus? Or Jeana's road trip with her daughter Kara to Berkeley to move into college? That was the fun of the show, wealthy people of Orange County doing everyday things like you and me, but with a 10ct diamond on their ring finger.
And so I had pretty much given up on the show last season and was rooting for Bravo to retire the series. My DVR automatically recorded the first episode and so I thought I'd give it a try, assuming I would have to cancel the DVR from recording anymore episodes.
That was until Heather "Fancy Pants" Dubrow stepped onto the screen. She was just what the show needed. Extreme wealth in Orange County with a quirky husband who she likes to roll her eyes at. (Although I'm sensing some Paul and Adrienne tension between the two of them, hopefully it doesn't have the same ending.) Heather exudes wealth and what you think of when you think of Housewives of Orange County. Their palacial home is not big enough after baby number four, so they are looking to upgrade. (To upgrade I assume they want something to the likes of Mohammed's home on RHOBH?) Whenever the camera moves from Heather's home to Gretchen's little town home that is smaller than my own home (But most likely triple the price considering it's California) it's just a disappointment.
So Bravo, I beg of you, lets do an overhaul of OC! We know the stories of these ladies, we've seen their divorces and money woes, bring on some more money bags, like Heather, that we can get to know. I'm aware of the fact that they are bringing in a new character this season, but she's chummy with Alexis, I can't imagine her to be another Heather!
So unless it turns into The Heather Show or we see a new cast next season, I just may have to push Stop Recording on my DVR. There are only so many shows I can continue watching because of loyalty despite my lack of interest. (I'm talking about you, How I Met Your Mother. Would you just meet her already?)
Images