In case you are not consumed with young Hollywood, young Hollywood relationships and of course young Hollywood fashion, then you aren't aware that Coachella Festival was this past weekend. To some it's a music and arts festival and to others it's a celebrity red carpet in 100 degree weather where everyone is donned in their best hippie attire. Lets just say I have no idea what musicians took the stage at this event and what artists displayed their work. If there weren't any Freida Pinto uni-brow self portraits, then I don't know what else could be there.

I'm not going to do a best and worst dress of the festival because quite frankly I'm not into the hippie-indie funk look, but checking out the styles, as bizarre as some of them are, is still fun. I like to see what the A-list (and Z-list) celebrities do when they attempt to dress themselves in a boho (or is that hobo?) chic. I'm doubting anyone went to a stylist for their clothes, and if they did I'm seriously concerned with their stylists.
Paris Hilton, Kyle Richards and Nicky Hilton
I chose this photo because while Kyle may be a little on the older end of the demographics of the attendees of the concert, I love her style! She knows she's older so she doesn't try to fit in with the others in booty shorts and a crop top. Instead, she's wearing a long maxi dress with a belt so for it to not be quite so baggy. And she's smart enough to wear her Chanel bag over her shoulder because trapsing around with a large Birkin is not so smart at a festival. Paris and Nicky are dressed in your typical Coachella fashion, nothing too exciting there. But if you see in the below photo, the girls are smart enough to wear flats!
Diane Kruger and Joshua Jackson
Now this is how you dress to Coachella! A chance to wear shorts and boots, I'm there! Apparently Dianne is dressed in all H&M! And JJ's outfit is is perfect and laid back. I think they just may get an award for best dressed couple!
Eve
I actually like the off the shoulder, asymmetrical white top paired with shirts, but the fringe isn't workout for me. And the hair is perfect! And um who knew Eve was still around? I guess she's hiding under that hair!
Sophia Bush
No, no and no. I know the crop top style is in which, is fine, but the pants are not working for me at all. It's a little too matchy matchy and then the oddly paired handbag that is a completely different hue of blue makes it all even worse. Maybe if it were a white crop top it would work a little better. And the blunt bangs are just a no. I think her hair and make up are too put together for this venue.
Chrissy Teigen
I love me some Chrissy Teigen. She's cute and quirky and thus the hair and make up look great, but that crocheted top and those odd shorts just are not cute. But I love the shoes!


Alessandra Ambrosio
Now this is what Coachella is about, love the lace shorts and cowboy boots! Throw on a long, fringed vest and a hat, perfection!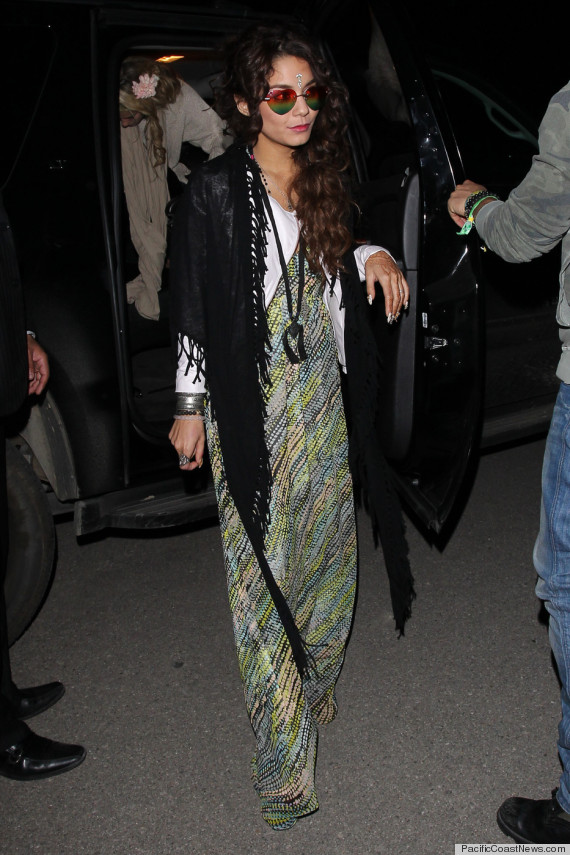 Vanessa Hudgens
Um, I like her...lipstick? Is she wearing a maxi dress, sweater and a shall? Rainbow Brite sunglasses? This is one of those Coachella outfits I dont' understand. And Vanessa really epitomizes that Coachella fashion which I am ignorant of.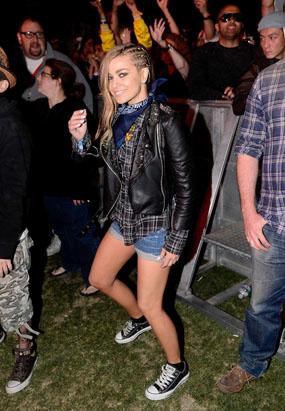 Carmen Electra
I'm not sure if this is what I think of when I think of Coachella, maybe more Harley Chic? And did she not have time to finish the cornrows in her hair? I'll just plead ignorance again.
Katy Perry
Sadly, this is just typical Katy Perry style. Lets just be happy she isn't wearing the cupcake bra like in the California Girls video.
The Jo Bros (I don't know which is which)
Jo Bro on the right is well dressed for the occasion, simple and classic with a little bit of a fashion statement with the necklace and sunglasses. I don't know what's going on with Jo Bro on the left? I'm not a fan of men in wife beater shirts and then the bright colored prints?
Gigi Hadid (RHOBH Yolanda Foster's daughter) and Kat McPhee
First, let's state the obvious. A reality star's daughter is friends with an ex-American Idol now television star? Ok, so Gigi's outfit works for her. She's young, a model and has a great figure. Work it girl. Now Kat on the other hand? Are we wearing sleeveless button down denim shirts again? Did this need to come back from the grunge era? if she had a different shirt I could work with it.
And I think that's a good cross section of what you see in celebrities at Coachella. Personally, it's not my style, but if Lacoste happened to throw me an invite to their party next year at Coachella, I would probably wear shorts with a loose, billowy, long top, hair down parted in the middle with loose waves. And then I would top it all off with some boots. But I just couldn't give into the round sunglasses, I would have to go with my aviators.
Somehow I don't think I'll be getting an invite anytime soon, which means my only chance to wear this outfit will be at Bambino's first birthday party! What? No cowboy boots in a bounce house?
Images