Ahh, another fashion trend I just don't understand. Floral prints, we're talking all of it. Floral jeans, dresses, skirts, you name it I just don't get it. Do people really like this style or are they only wearing it because Anna Wintour informed designers that will be the next trend to hit the runways? The bright loud prints, the skin tights jeans and the heels? And really Olivia Palmero, you're going to juxtapose it with leopard printed shoes? And sadly, this isn't avant guard fashion, look at Beyonce and Jessica Alba, both are obviously wearing this casually walking down the street!
I do recall this style being around in the late 80s or early 90s, and quite frankly when I see someone wearing the style I think of just how out of times they are. For instance, check out the photo below of the 90210 gang around 1991.
Do you see the dresses Andrea (Ahhhhndrea) and Brenda are wearing? Not too far off from the dresses nowadays.
This Alternative Apparel dress (currently sold out) is highly similar to Brenda's photo above.
And here are Miley Cyrus and Jessica Stroup wearing the same dress. Do you think Jessica actually had access to the original Beverly Hills, 90210 wardrobe?
And let's not forget the queen of 1990s floral prints, Kelly Kapowski.
Is Katie Holmes wearing the exact same Kelly Kapowski jeans?!
But it doesn't stop at Katie! Oh no...
Jenna Dewan-Tatum's jeans looks pretty similar to Kapowski's as well.
And then of course you've got the floral rompers. I'm pretty sure I had a couple of these in elementary school. Remember Stephanie Tanner of Full House, she had quite an affinity to those floral rompers.
And who was caught wearing this style?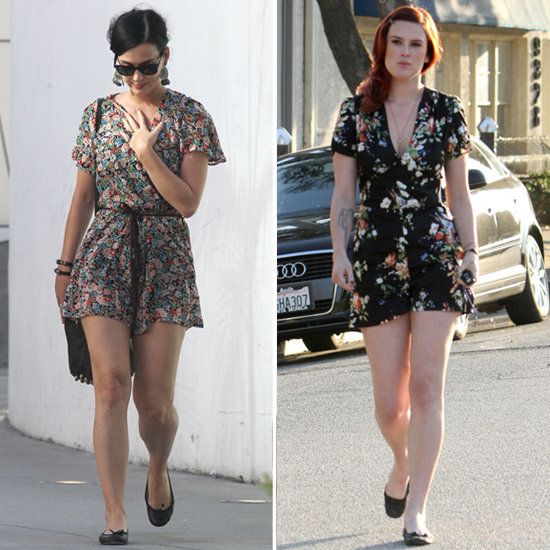 Katy Perry and Rumor Willis! I'll be honest, I did see one in Target and complicated getting it, but then I had flashbacks to 4th grade and how long it took to get out of that onesie just to go to the bathroom!
And can we talk about floral skirts? While Kelly Kapowski was the queen of these skirts, she wasn't the only one wearing a rose garden on her waist.
Angela of My So Called Life rocked a floral skirt back in the day. (Side bar- I find it odd that florals were a part of grunge, wouldn't flowers be considered the antithesis of grunge? Or maybe florals were the predecessor to grunge? All that happiness culminated in dark, dreary plaid? Granted, this photo was in the pilot episode of My So Called life before Angela became biffles with Rayanne and went all dark and grunge.)
And now, floral skirts galore!
Lauren Conrad
The Hills are alive with the scent of carnations!
Kate Middleton
Even the Duchess has adopted the fad!
And lastly, lets acknowledge floral jackets. I think the words together speak for themselves. Tiffani Amber Thiessen wasn't the only Saved by the Beller who could rock a floral jacket, looks like Jessie Spano took the style in her character's own conservative manner. (I said character, I do recall what movie Slater's girlfriend went on to do.)
It appears Katy Perry took a page out of the "I'm So Excited" singer's book by wearing a floral boyfriend jacket as well.
And apparently Lauren Conrad is a devout follower of the floral print trend, sporting the hideous print in a jacket in this photo.
I just don't understand the obsession with floral prints. Personally, I feel it's a style that was ugly in the 90s and need not to be returned. Think about it, five years ago if you saw someone wearing floral printed skinny jeans you would have whispered to your girlfriend, "Just because you found those jeans for $3 at Goodwill does not mean you should buy them." And now you can probably find the same jeans in Versace for $3000! For some reasons the Style Gods felt that 90s fashion should be recycled, including that which should have never been created in the first place. Florals should be left for young girls Easter dresses, not for dresses that have a bouquet of tropical flowers in peplum worn on red carpets.
And so what's next to be recycled? T-shirt clips?
Hermes does sell a scarf ring that looks pretty similar...
Click below for image sources.
Images