Someone please explain to me why bathing suit cover ups are so expensive? Now, I understand if it's something that could easily double as a dress on it's own, but when it's short, see through and with high slits is it necessary that it costs $100? I'm only wearing it to the pool and home from the pool, why do I need to spend a paycheck's worth of money for it to be dabbed with post pool wet spots? Because I find it ludacris to spend an exorbitant amount of money on something to cover up my swim suit does that mean I'm left wearing a big t-shirt or just my bathing suit? No, you shop at Target!
Seriously, I love the concept of having a cute and trendy cover up to wear to the pool, but finding one that is inexpensive is quite the challenge. And so to follow up on my bathing suit trek I find it only fitting to embark for a cover up that is physically acceptable as well as fiscally acceptable, but moving beyond Target! (Is that even possible?)
Now let me tell you what I don't like in cover ups, beyond price. No black. No only board shorts or those horrendously awful Hammer pants print.
Yeah, that's one fad I just don't understand. What I do like are tunics, maxi dresses, razor backs, light colors, somewhat see through, but not Jersey Shore see through. Nothing Jersey Shore. You know what I mean.
Currently, this is the bathing suit cover up I own and have owned for about three years. But, because I love it so much I don't wear it as only a cover-up but instead also as a dress. It's gone dressy to dinner to casual to the park. It even expanded with me through pregnancy! She's kind of like my best friend, we've experienced a lot together.
But, since I wear it more as a dress, I kind of need something that I can really wear as a cover-up! And yes, it is from
Target.
I love this
Loft
cover up, it has bright colors, perfect for summer and is short, intentionally meant to be a cover up. I could maybe wear it with jeans or leggings, it's debatable. The cost is $54.99 and currently at 40% off. That's a doable price. I hope you don't expect me to do the math for you.
This cover up screams casual, just what I love. Perfect for to and from the pool. While the color is a bit zebrasque I don't mind it too much. A little on the high end for something so casual and young looking, but with sales I'm sure you could get a good price on it.
Roxy, $48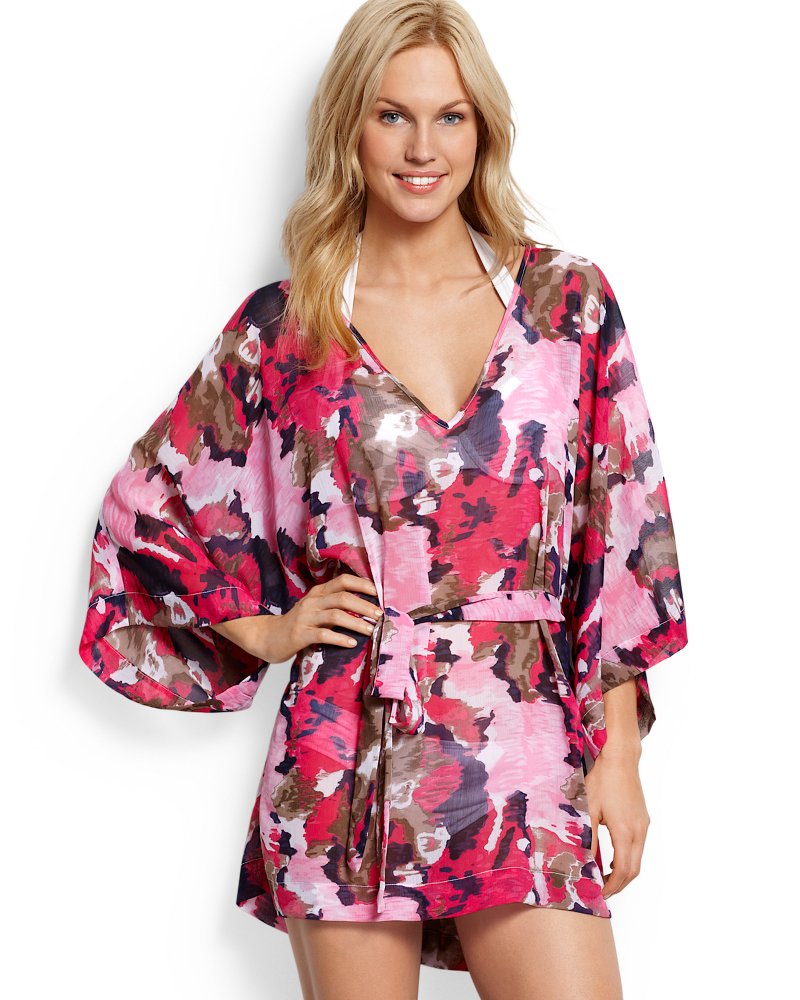 Looking at this cover up compared to the Roxy one above, you can tell that this one is definitely more mature while the above is meant for younger girls. Despite the Monet painting, I actually like the structure and bright colors, too bad it's a tad expensive.
Tommy Bahama, $122
I don't know what it is about the tunic/kimono style that just turns me giddy, but I feel it strange that I do like this one as well. The bright colors here remind me of a Joan Miro painting (what's with all the art work on cover ups?), yet the style is just so whimsical and fun. Again, too expensive.
Trina Turk, $154
Normally I would prefer a dress as a cover up, but when I came across this jumper I really liked it. It's short, cute and breezy. I just don't like the concept of putting on pants in public at the pool. I don't know why, but I'd rather just pull a dress over my head. Perhaps it's the fear that I will trip and fall while putting on pants only for people to laugh at me for my inability to do something that kindergartners do.
Topshop, $60
I absolutely adore this cover up. The style, the design, the color, it's all perfect! Despite the fact that it's about 100 degrees in the summer here so the long sleeves may be painful and it has to be hand washed, it's still so cute! Practical? No. Inexpensive? No. Chic? Yes!
Debbie Katz, $107
And yet another one that I adore that is far too expensive. I actually saw this one in Everything But Water and I was immediately drawn to the print. I love the Geisha theme and the red color, but not the price. Boo.
Nanette Lepore, $144
This wrap dress cover up is genius! You don't have to feel like you're getting dressed in public when you're merely wrapping a dress around you, like you're wrapping a towel around you. It comes in a variety of colors and the price isn't ridiculously outrageous!
Victoria's Secret, $49.50
Another kurta/tunic style cover up! It comes in quite a few prints that are all equally cute and on sale! (But still a little on the high end.)
Roberta Roller Rabit, $79.50
And after extensive research of trying to find an inexpensive cover up that I didn't feel like I was settling for what did I realize? That I have expensive taste and I'm going to have to settle and head to Target. (Ahh, having Champagne taste on a tall boy budget, it's rough.) Yes, unfortunately that $20 cover up that I fall in love with did not come into fruition. What does that mean? That I will be scouring
Target
...and oh wait. Guess what I found? A $17.99 cover up that I love!
Don't be fooled, it looks like a shirt, but it's actually a dress that goes to mid thigh. It also comes in a fuscia/orange double color. Well, if I can't catch one of those Loft entire store is 40% off sales so I can purchase the Rainbow Brite kimono cover up (yes, it's 40% off of the full price now, but just wait until it's on sale and then another 40% off!), this one will be in the shopping cart next to the toilet paper!
Image Sources