When it comes to red carpets, it doesn't get much better than the White House Correspondents' Dinner, it's where all the Politico and Hollywood elite mingle (Maybe not elite, the Kardashians and Lindsey Lohan have attended in the past. So maybe the Hollywood relevant?), poke fun at one another and dazzle us with elegance. What I love about this red carpet is that celebrities really make an effort to dress conservatively chic. It's like the celebrities are aware that they are honored to be invited to such a dinner and that they indeed should show respect and not be dressed in a JLO, Versace baring number. And those who do have a fashion blunder just painstakingly embarrass themselves among somewhat intelligent beings. It's such a hodge podge of celebrities and politicians and I love it! I can only imagine the conversations like Olivia Mun and Ben Bernake discussing what was on Tosh.0 last night while sipping on martinis.
The fashion of the White House Correspondents' Dinner is what I live and breathe for when it comes to fashion, long gowns, sleek and sophisticated mane and even the trashiest can appear elegant. (Did I go too far there? Lindsey Lohan comes to mind with a big, fat yes.) 2013 showed to be no exception to the rule of chic at the Dinner. Everyone really brought it out. With a few exceptions, the womens gowns were absolutely stunning!
So let's start this off with the First Lady's attire.
Michelle Obama
was glitzed out in Monique Lhullier. It's funny, because this is a dinner where celebrities bring out their more sophisticated attire, but to the contrary the FLOTUS likes to show some flare. (Shhh, but I didn't care for her gown too much, but I feel like I can't speak badly of her.)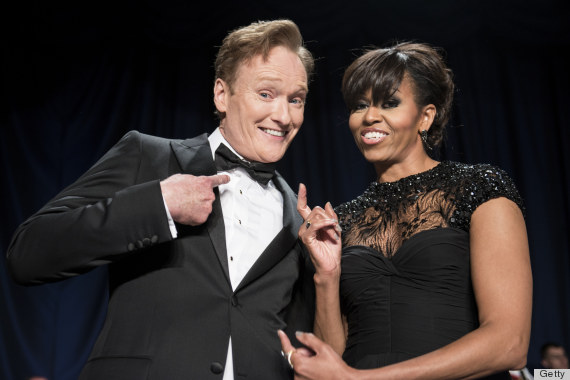 Amy Pohler
looked stunning in this Basler gown. The cream, the sequins and quasi-peplum, gorgeous! I loved that it comes all the way to the neck and has short sleeves, perfect for her age but still trendy. And the hair is the perfect fit to the ensemble, looks a little youthful, but not too youthful.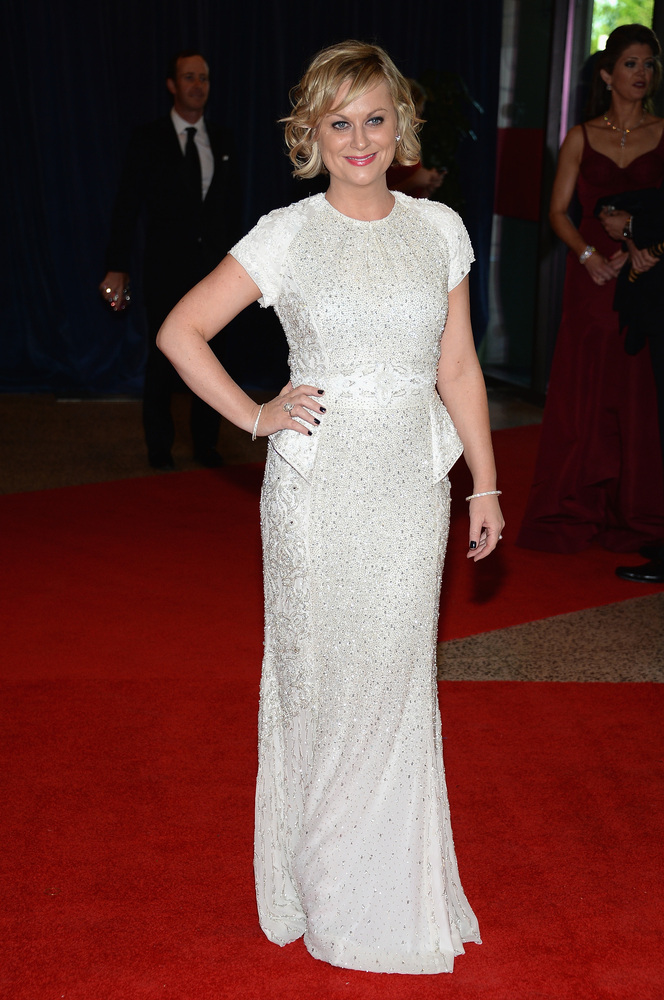 Kate Mara
chose Prada for the night and it is equisite. I love the conservative white (
of course
) and the sparkle of color with the clutch and bracelet. The bow is a little questionable, but it works. And the sleek, pulled back hair tops it all off. I would have chosen to add some studs, something to the ears since the jewelry is minimal.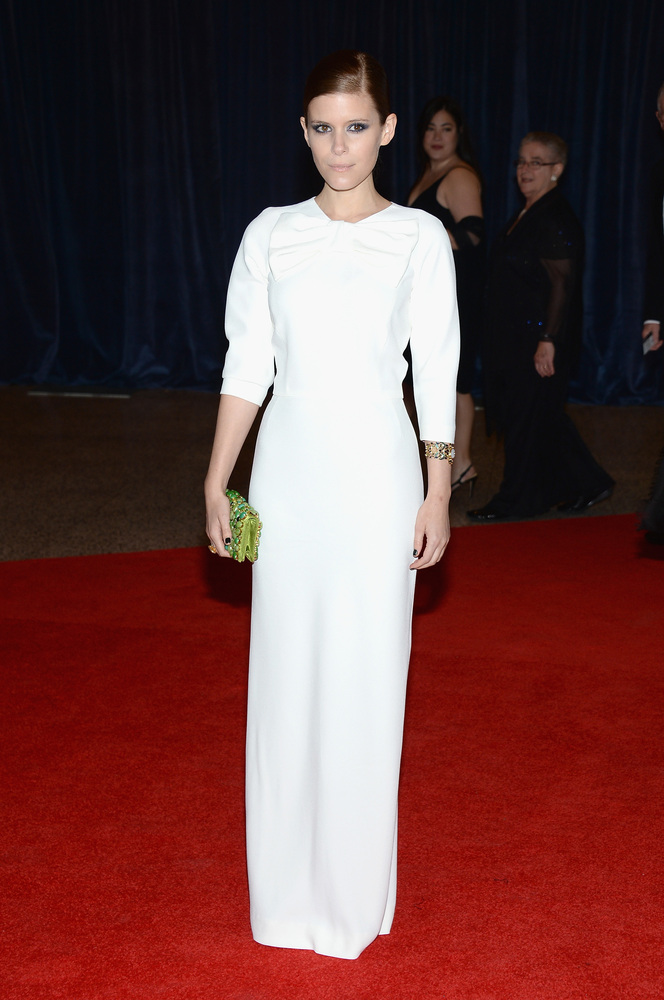 Julia Louis-Dreyfus
looks amazing in this purple, lace Dolce and Gabanna number. Like Amy Pohler, she's dressed her age and the hair down makes it youthful. I'm not sure about the green earrings though, I wouldn't have gone quite that far. A little too mardi gras for me with the color contrasts.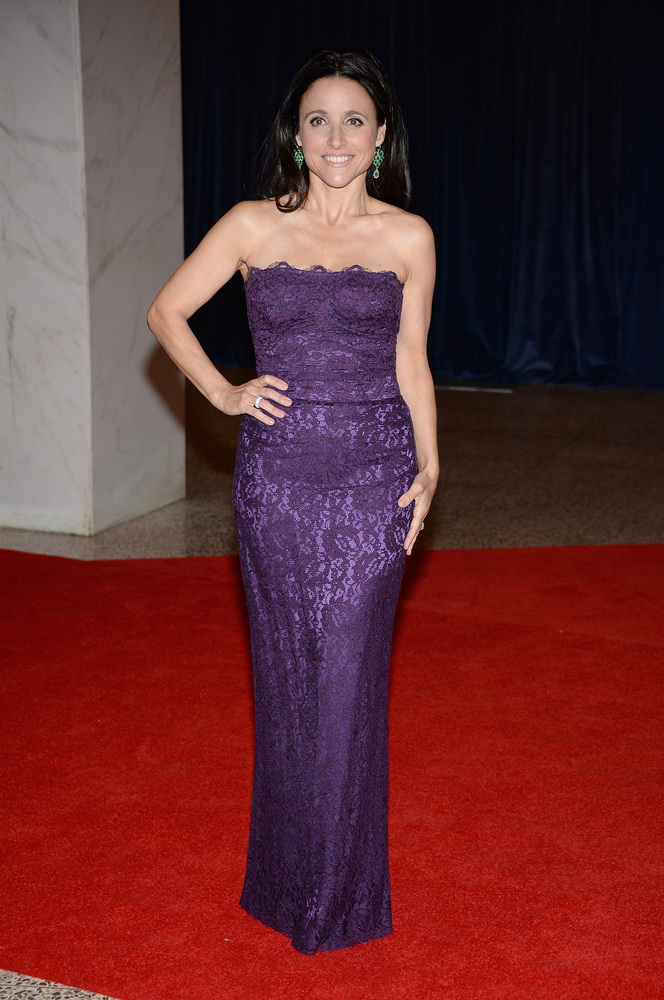 As usual, my girl crush
Chrissy Tiegen
really brought it out. For a swimsuit model she knows how to go conservative when it's time to shake hands with the Prez. Love the one shoulder and sparkles. I don't like the hair or earrings too much, but I can looked past that. Oh, and John Legend looks pretty dapper too.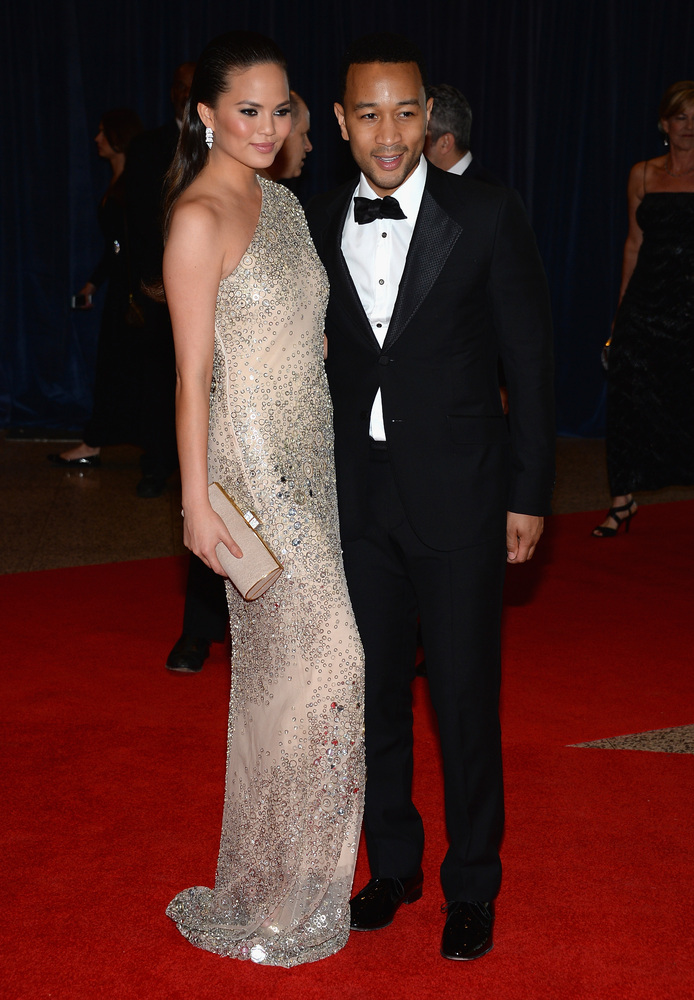 Tracy Pollan
looks gorgeous here, the color and silhouette is so fitting for her and the casual hair really pulls it together. Gorgeous! And Alex P. Keaton looks good too.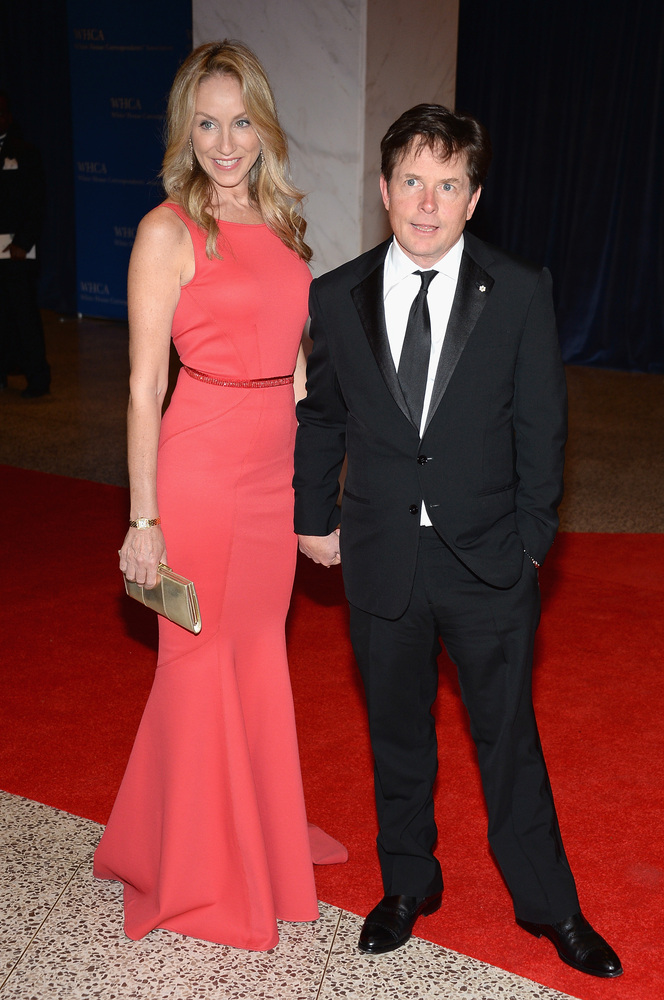 Connie Britton's
Temperly dress is similar to Julia Louis-Dreyfus, but the coverage of the shoulder is similar to the Duchess's wedding dress, I love.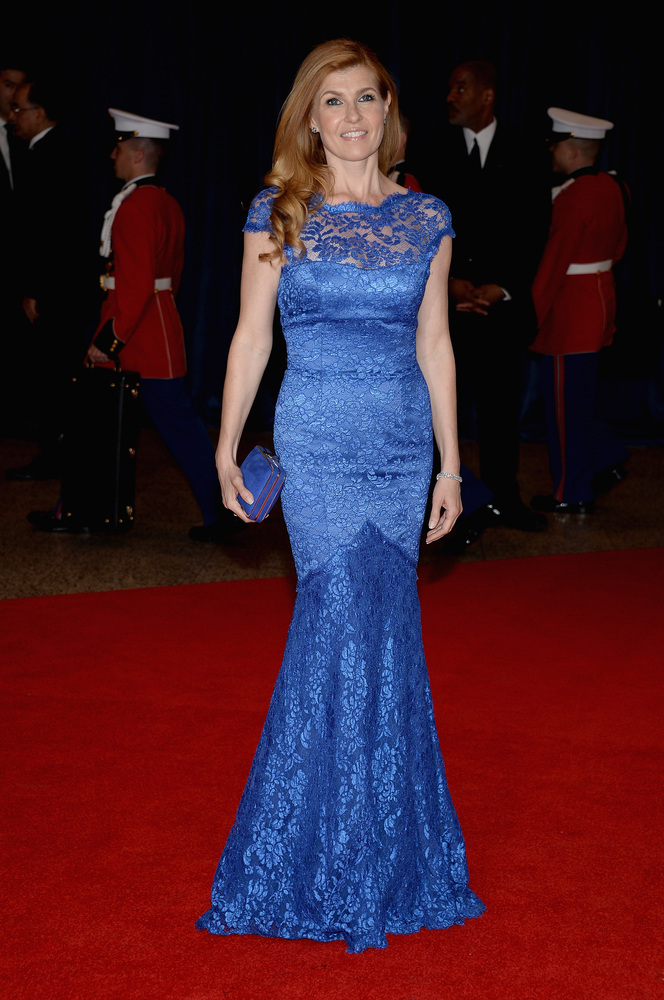 Sophia Bush's
Lela Rose gown...is...I don't know. Initially I was down with the color and silhouette but something just wasn't right. I've concluded that it's those bangs that I just don't like for her. She's a beautiful girl hiding behind those blunt bangs.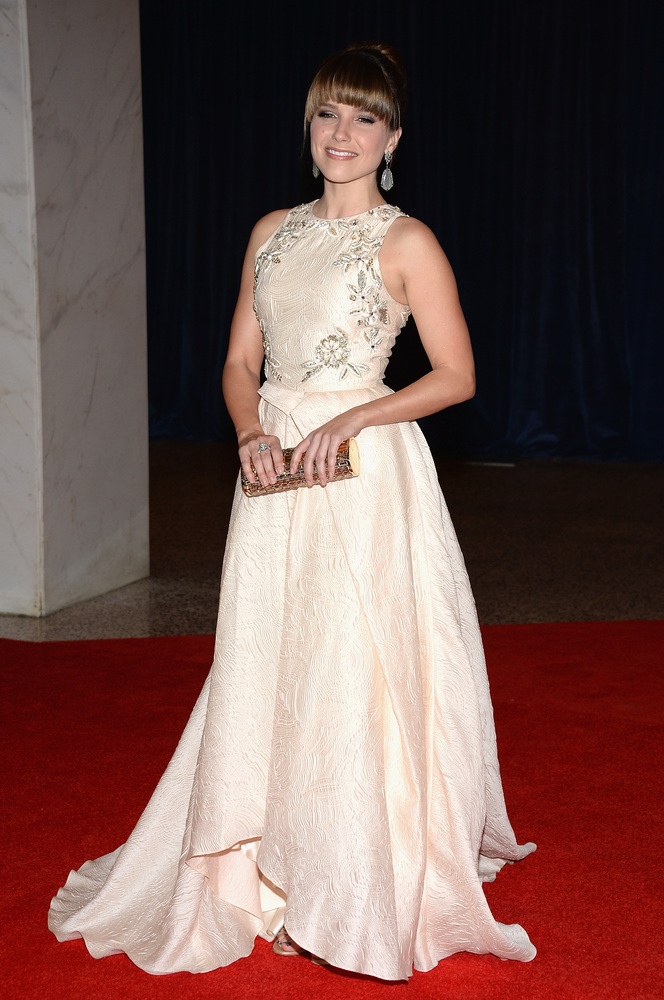 As much as I dislike the quietly aggressive nature I sense from photos of
Ana Wintour
(It's that strong female aggression that I hate to acknowledge as a feminist, but it's there.), her dress is amazing. Take off the bolero jacket and I absolutely love the gown! I don't care for the necklace with the dress too much. She may be high fashion, but my dinky blogger fashion has a voice too!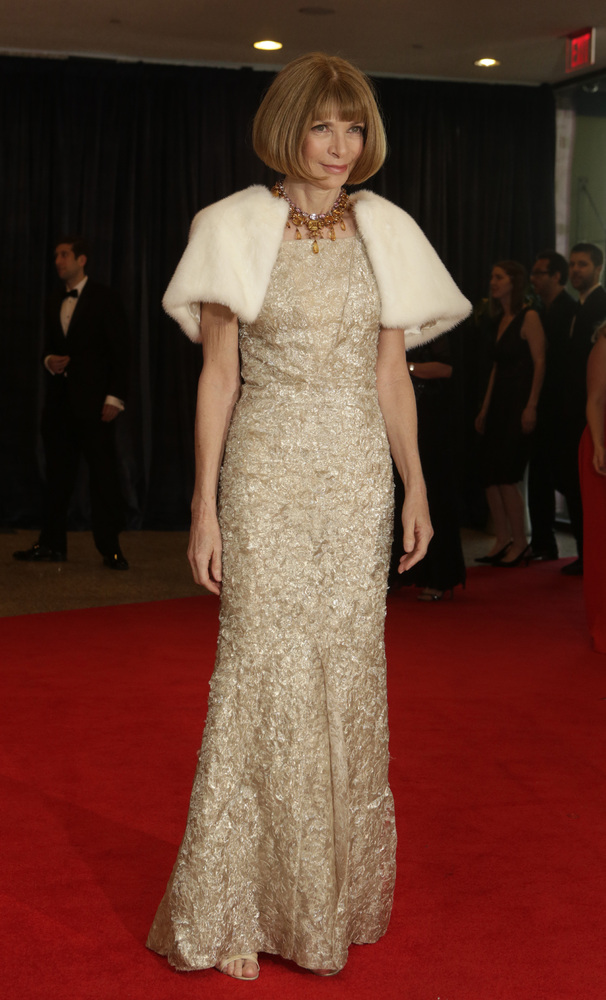 I expected more from
Olivia Munn
, I really did. While the black dress and dramatic gown are a beautiful contrast, the dress would look better if it were more fitted. And while I'm not a fan of the
top knot
, I'm kind of digging it on her.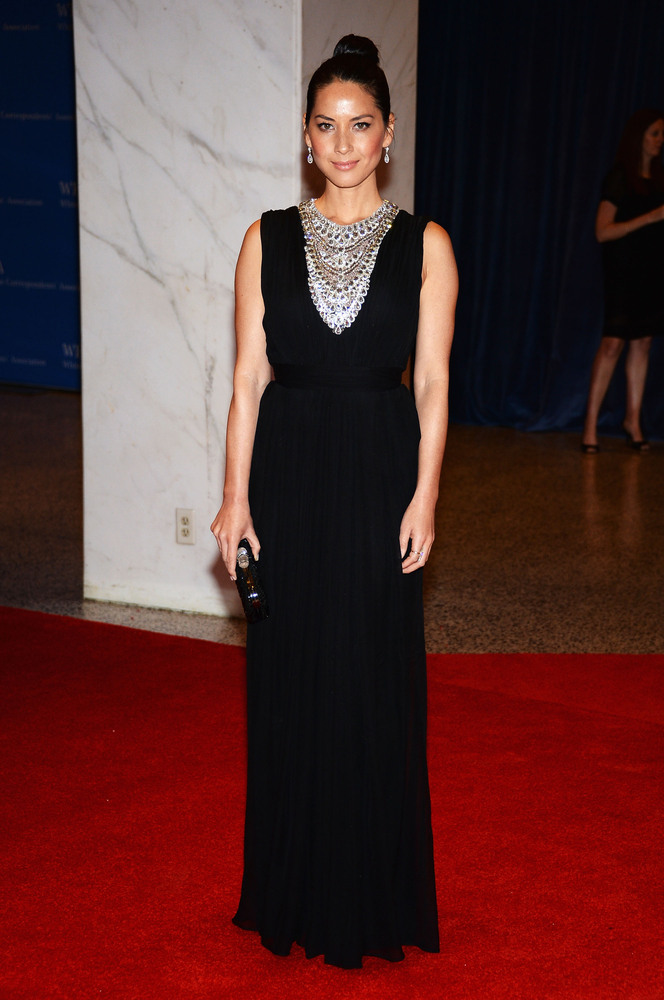 I'm not a fan of
Katy Perry's
fashion style, but she did make an effort to meet the President. While the dress isn't the most beautiful, it is flattering for her figure and she kept thinks simple. Kudos, girlfriend, kudos.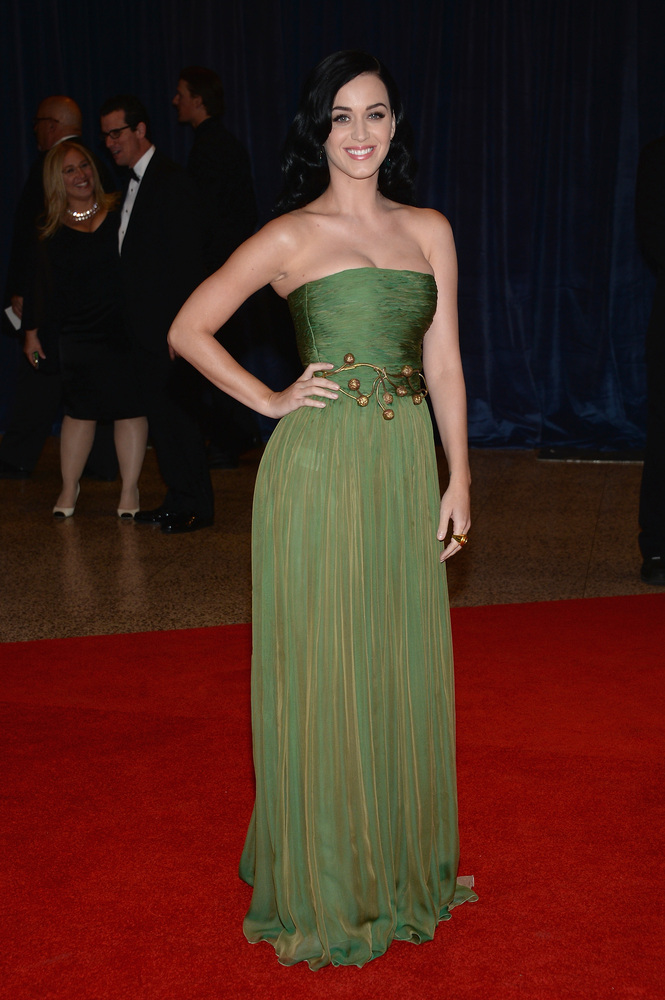 This dress screams, "I'm going to win the Oscar for Best Actress." It's a very dramatic dress that needs a lot of attitude to be carried off, and
Jessica Pare
definitely works it in this Antonio Berardi dress. Work it girl, work it. But sorry, you aren't getting an Oscar tonight.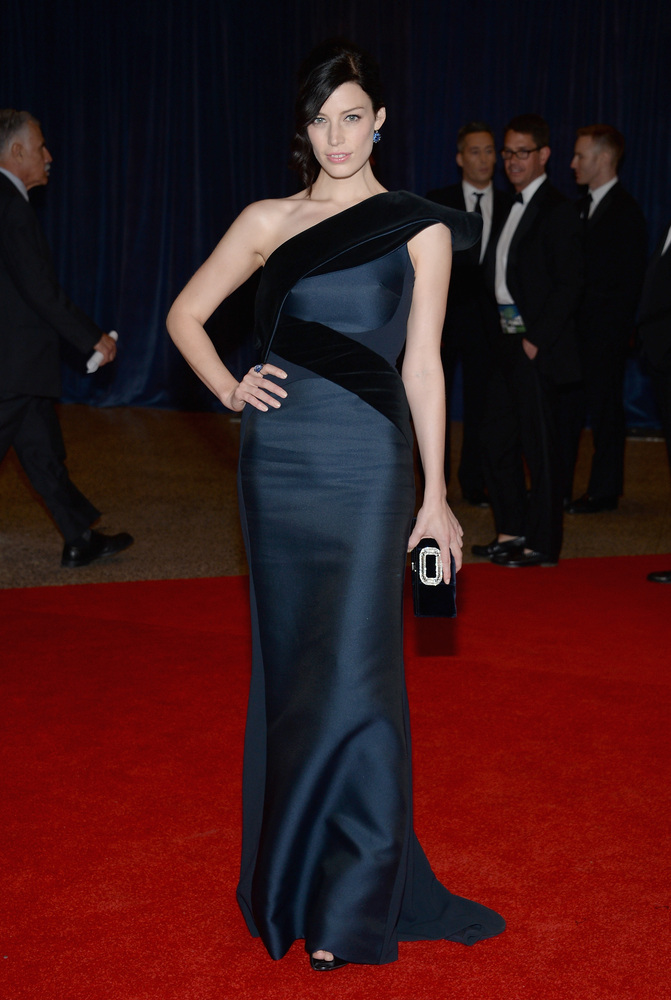 Michelle Dockery
looks stunning in this purple quasi-peplum gown. While I don't care for the sheer skirt with a solid patch down the middle, nor the red lipstick and pulled back hair, it is still a beautiful dress.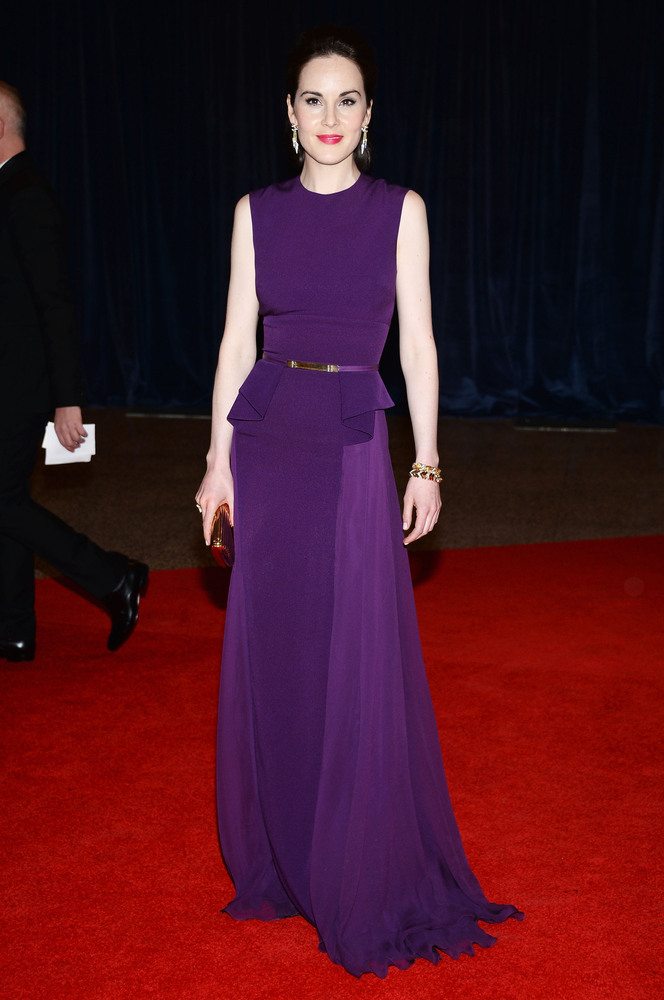 Of all the red carpets this year, I must say the White House Correspondent's Dinner truly was the most impressive. The celebrities respected where they were going and dressed accordingly. There were no plunging necklines (Like Rosario Dawson's major faux pas last year) or thigh high slits a la Angelina Jolie at the Golden Globes, just sheer elegance. This is the type of affair I dream of wearing a
Naeem Khan
gown too. Perhaps I should run for city council, because I have a bigger chance of taking a political office than appearing in Real Housewives of Texas Suburbs!
Click below for image sources.
Image Souces
President Obama
All images sources are linked according to their name within the article.