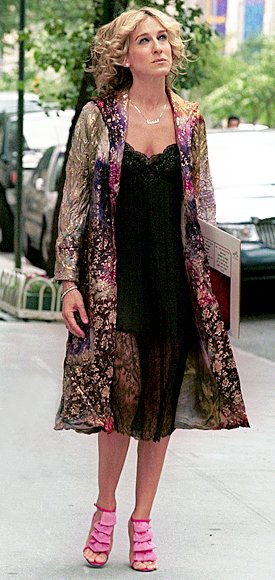 Sex in the City was my predecessor vice to the Real Housewives. I got hooked to the show when I was about 26, watching reruns on HBO On Demand and immediately I was just as super glued to the show as is Sweet Pea's trophy from dance class that I tripped over, cracked in half and then went flying into the wall. And then TBS started picking up reruns of the show and then E! and now the Style Network and lets just say that when Carrie goes off on Berger's friends at the nightclub called Bed, Hubby had to confirm with me if this was the Post It episode and he probably ranks this show just as low as the Housewives.
The early on seasons are my favorite when Carrie was younger, more naive and carried a sense of insecurity in her Manolo Blahniks. Once Baryshnikov came on the show I felt it was doomed, they were not a believable couple, lacked any chemistry but much like my Bravo today I still continued watching to see how the show ended. And then of course I watched both movies, by myself. In the first movie Hubby and I parted ways in the theater and went to separate movies and with the second I watched it at home, which was a good thing because it was worse than the Carrie-Baryshnikov affair.
Beyond the titillating writing of the show (Carrie to Samantha: "But that ain't even yo' style"), the fashion was what drew in so many viewers, including myself. The good, the bad and the ugly is the perfect way to describe the chic, ghetto fab and what were you thinking styles of Carrie. In all honesty there were many styles of all the ladies that I adored. For instance, call me crazy, but I loved Carrie's Dior newspaper dress that she recycled for one of the movies.
My absolute favorite look of hers was the outfit she wears when she comes back from Suffrin, New York for the weekend to have dinner with Big. I love the white oxford shirt and the green satin, bunny tail skirt. Little bunny foo foo and all, it's gorgeous!
Maybe from the back a little questionable and major flattening issues when sitting, but still so Carrie chic.
Of course, Charlotte's style was much more similar to my own, very east coast conservative. Not that I'm from the east coast, but I do dress a bit on the conservative side, Target conservative that is. My favorite of hers is the dress she wears to the wedding of Miranda's decorator and almost boyfriend from London. She claimed she was tired of being a frumpy bridesmaid and went all out.
But of all the styles that flashed themselves through the five years of the television show and the two movies were the rose colored, ruffled Louboutin's that Carrie wears on her last night with Big before he leaves for Napa.
From the moment I saw the show I fell in love. Now, I'm not a shoe lover, my closet isn't filled with rack after rack of shoes, I'm a simple sandals kind of girl, so to feel such an affinity to a shoe is kind of rare for me. At the time that I saw the shoe I didn't know what Louboutins were, I think I overheard a friend talking about them at a party because she just bought a new pair and were acknowledging the red soles, but I didn't pay too much attention to the comment. Frankly, I thought Carrie only wore Manolo Blahnik's, whatever those were. But then she debuted these Louboutin's making the red sole the "it" shoe for decades to come.
Unfortunately, those beloved shoes were later drowned in amniotic fluid as Miranda gave one swift push and broke her own water all over the pink ruffles. Yeah, because that's how one can break their own water. Regardless, it was a travesty to see those gorgeous shoes in such peril.
It was years later, actually just about two years ago, that I was shopping in Target and came across these ruffled sandals that immediately reminded me of the water gush heard round the world! These were the cheapo cheapo version of Carrie's shoes!
And they were on sale! So of course I immediately snatched them up. Unfortunately, the proportion of my large foot to my small ankle are completely out of wack, I cannot get the buckle tight enough around my ankle! I even took it to a tailor to see if they could do something (Ok, so I was already in there getting a bridesmaid dressed altered) about it and she told me to just get my husband to get a needle and make another hole to make it tighter, unfortunately it just isn't quite right. I still wear the shoe though, but I'm constantly having to fix the ankle strap, something I'm sure Carrie would never do. I wonder if I could just pull off the strap completely? Why have I never thought of that earlier?
And so recently I was switching channels and came across some resale show on the Style Network where the staff of the show were in a wealthy women's closet who was showing the ladies what she would like to sell, one being a peach/light pink color of Carrie's ruffle Louboutin's. She immediately said that they were the same ones in the Sex in the City episode and that she had never worn them. Egads! How could you have those shoes, never wear them and now sell them at a fraction of the cost?
Here I am trying to MacGyver a pair of Target, ruffled shoes to emulate Carrie's style and this women had the exact pair in her closet and never wore them, what?!
And so for now, since I have absolutely no place to wear these shoes I've decided there's not point to purchase them. (Yes, that's why.) And so I shall tack these shoes on my dream board, I mean how amazing would these look with a simple, black
DVF wrap dress
?
Links