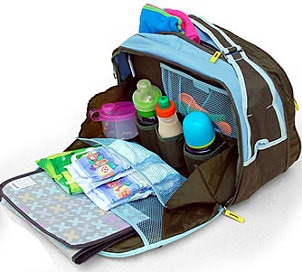 I love a good handbag, it's like my Achilles heal, I would do anything to get a handbag that I have fallen in absolute infatuation with. I've always said that I don't understand people's obsession with shoes, but when I compare it to a handbag, then I understand. The structure of the bag, the color, the size, it just brings over all sorts of giddy! From big, industrial everyday handbags to cute clutches at night, I love them all. (Although I've always tended to prefer the former.) And so when I got pregnant with Sweet Pea one of my biggest excitements was getting to pick a diaper bag. (And that I was having a baby, of course.) I knew I wanted to go the chic route. I didn't want your typical, boring diaper bag like the one shown above. I needed some pizzaz to it, but little did I know that in my price range there really weren't that many cute options. So initially I did buy a Carter's Messenger bag, thinking that was the best in my price range. It was your typical mommy style, kind of cute and not in the four digit price range.
I actually bought it in blue thinking that if my second child was a boy I didn't want a pink diaper bag. Ha! Little did I know the amount of bags I accumulate before Bambino was even born! (I told you, I like a good handbag.) So after the Carter's bag I knew I needed one that represented more of my style. At this time I wasn't really into bright colors and mommy looks, I wanted something sophisticated that didn't look like a diaper bag, so I purchased this one.
Oh yes, that's Jessica Alba wearing the timi and leslie Charlie diaper bag. (Don't worry, I didn't break the bank on this one, bought it with gift card and it wasn't that expensive.) I absolutely adored this bag! It was huge, which I loved and didn't look so diaper bagesque. But then the seams started to rip on the inside, apparently I used it a bit too much, or there was a reason it was the price it was.
And so then I went through a couple more diaper bags, some just being handbags that I bought at Banana Republic or Target. I did succumb to mommyhood and purchased a Vera Bradley bag for when I had a weekend trip or just an all day trip where I needed to pack a ton of stuff.
This is great for getaways, but I found that for everyday use people steered clear of me worried that as I bent over to pick up a child they were going to get wacked straight in the head with my huge bag filled with what? You're only going to Target, how many diaper changes are you anticipating? And really, how did I ever like the print of a Vera Bradly bag, it's not me. It's like a wearing a jumper, it may be stylish, but just not me.
Lastly (of course not really lastly) I fell into the Petunia Pickle Bottom craze.
I love the shape and print (The more kids I have the more I like colors. Probably because it helps blend in jelly and crayola stains), but again just too big.
And so the other day I was perusing Pottery Barn Kids and came across the cutest diaper bags! And then I went searching around the Internet for the latest styles in diaper bags (Because I got the itch...for a diaper bag, not another baby.) and there are so many better options than just three years ago! But, considering I just gone one from 31 gifts early this summer for a pool bag, I knew I had to use all my restraint to not purchase one like a kid with a peanut allergy given a big bowl of peanut butter reeces pieces. I mean, how mean is that?
I love this style and of course the monogram, what is it about motherhood that makes you have to brand your initials on everything like they're cows?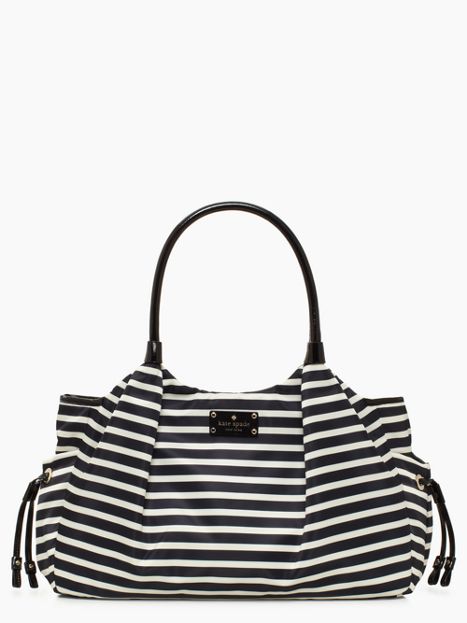 I was crazily obsessed with this bag for awhile, I loved the style and how huge it was, but I just couldn't succumb to the price. So instead I bought the Petunia Pickle Bottom, compared to this it was a steal!
While looking up diaper bags I hit the jackpot looking at Etsy! There are a lot of mothers out there who stay at home and design bags and sell them. They know what other mother's want regarding style and utility (And apparently mother's are really obsessed with chevron print). I'm really jonesing for a new bag right now...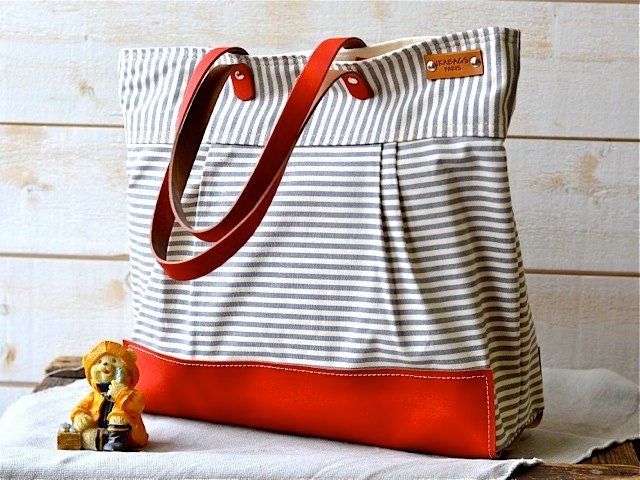 Esty- ikabags
I'm really loving bags with prints and colors, definitely an evolution from my pre-mommy days of pure solid, drab colors. I love the contrast of the print and the bold red.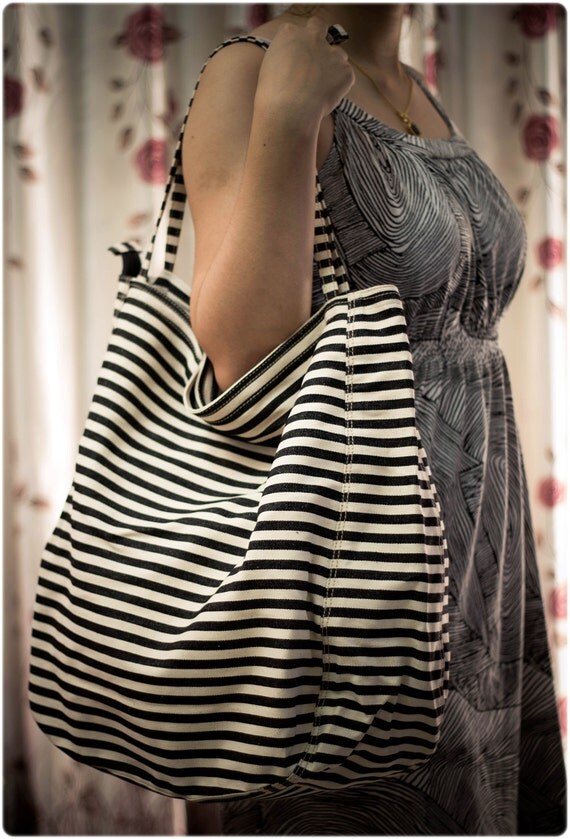 Etsy- CrazyBoy
I love this huge, stuff bag. I'm assuming it doesn't have sectioned off compartments, which I prefer, but still so cute nonetheless.
Etsy- A Little Blush
This diaper/wipe clutch is too precious. I love how you can keep both the diapers and wipes and dump them into your bag. And, the clutch is trendy enough to be used as a purse as well. Just don't give the valet a diaper for his tip.
Nordstrom
Something about this pattern quickly drew me in. I'm not a fan of the messenger bag on such a clunky shape, but it is resourceful when you've got a kids to wrangle.
Nordstrom
I like the simplicity of this bag, but white? One trip to Gymboree and putting your bag in one of those cubbies while you sing the "Hello, hello and how are you" song and the bottom will be covered in dirt and more.
Neiman Marcus
This MARC by Marc Jacobs bag has the perfect mix of stripes and bold color, and polka dots! Love!
Saks Fifth Avenue
I am not a fan of Burberry, I find their patterns to be worse than Houndstooth coats, but this bag screams my name! The color, the structure, I'll even take the messenger strap!
Now of course, there are a plethora of bags out there that don't have the diaper bag moniker, but still quite capable to be used for those baby essentials.
No, not a diaper bag and it's white, but I've been eyeing this bag for quite awhile and can I tell you that I'm in love? Not quite the most functional, but I could totally rock this as my bag with the kids!
If you've never shopped Fossil before, their spring/summer handbag colors are adorable and perfect for a diaper bag. I really like the colors and print of this one and how it can easily be tossed over the shoulder ready to take someone out as you go down to pick up your child as he is sipping on a stranger's sippy cup at a bounce house, not that that has happened to me before.
These shopper bags have been trending for awhile now, could easily double as a diaper bag. May not be the most organized in there, but you'd look so chic.
I want you to know I really went out on a limb for you, doing this post. I mean, you wouldn't ask an alcoholic to sip vodka for a taste test. And it's not like any of these companies are providing me with a free bag to post on this blog! After the
Andy Cohen debacle
, I don't think anyone's going to want to offer anything free to me.
Seriously though, for those who are actually in need of a diaper bag there are some great options out there that are not that expensive, especially if you go the Etsy route. And the biggest advice I can give, after going through many bags, is that you don't have to be confined to a diaper bag, anything can be used to carry the baby junk (And I'm not talking about that extra tire you have post baby number two), for some reason I didn't get the memo when I bought my first diaper bag at Carter's. What was I thinking?
Link