About a month ago I was randomly searching workouts on youTube and came across this forty minute workout from fitsugar.
Initially I recognized fitsugar because I used to read
popsugar
to get all my Hollywood gossip years and years ago. I remember that popsugar had expanded into fitness as well, but wasn't aware that they were producing free workout routines!
The workout was good, it was something different and I really took to the trainers quickly, they were sweet and lighthearted, no one screaming at you are making idiotic jokes. After the workout was complete I perused through the other youTube recommendations and came across a plethora of ten minute fitsugar workouts. I went for
Andrea Orbeck's Victoria Secret
workout next. (Apparently Andrea Orbeck is a trainer to many Victoria Secret models.)
In ten minutes this workout really got my heart pumping. The moves didn't seem too difficult, but it really had me breathing hard!
After I completed my workout I started browsing through the other recommended workouts on youTube and saw that fitsugar had many ten minute workouts that were led by celebrity trainers. Each trainer has a different style so you really get a cross section of routines. And there are so many that you can constantly change your workouts everyday!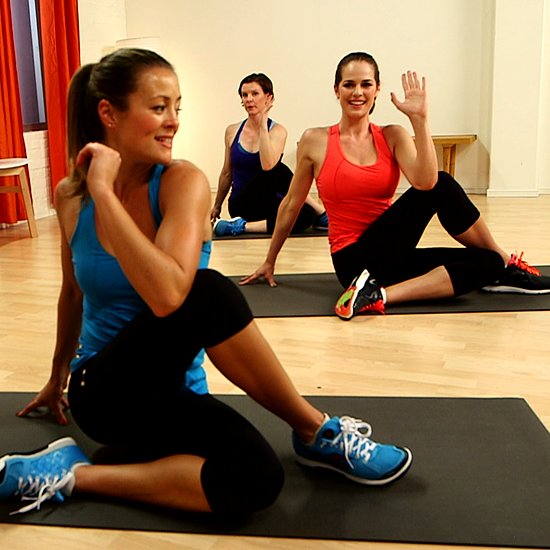 Fitsugar also has their own trainers on staff who either do the workout with the celebrity trainer or they host their own workouts. I love these ladies, Zelana (or as she's referred to as Z), Anna and Suzie. They have the perfect personality to reach out to women who want to get in shape. Zelana recently had a baby so there are some prenatal workouts in there from when she was pregnant and now you can watch her kicking some ass post pregnancy! Additionally, their are many average Janes who do the workouts along with the celebrity trainer and staff trainer so as to show that anyone can do these exercises.
And so I've gotten into a routine where I do four- ten minute workouts and get a good 40 minute workout each day. I always change it up so my body can't get stuck in a rut. There are some hardcore workouts in there such as anything by Jeanette Jenkins. I had heard of her before, but damn, girlfriend will kick your arse!
The
burpee-shuffle in this one
gets me every time! She does so many reps which she deems the trick to weight loss. Big mistake to do this one last today, big mistake. My legs were very weak on the shuffle.
Hayden Panatierre's trainer
also works you out pretty hard. Yesterday I made the mistake of ending with this workout. I really need to save the harder ones for first when my energy level is at it's highest.
Sarah Jessica Parker's trainer may be one of the hardest workouts I've done. Poor Suzie looked like she was in as bad shape as I was!
I did these workouts as number 2 and 3 last week and I had to find the easiest of workouts for number four.
Not everything is over the top intense. There are some great ones that work you out but you don't feel like you're going to die in the end.
I often start with this
cardio warm-up
, it gets the heart pumping without making you feel like your heart is going to explode.
Zelana is pregnant and doing this workout, so definitely not too over the top!
There are quite a bit more workouts at the
popsugar fitness channel on youTube
. This has been a great alternative since losing Exercise TV. At first, in my typical cynical fashion, I was annoyed that the videos were only 10 minutes, and now I love that they are only 10 minutes! Each day I can create a new workout and curtail it to exactly how I feel throughout the exercise. I don't plan in advance which four I want to do, I just feel my way through which makes it so much fun!
Yay, I just found a
recent upload
that I haven't done before! I know this one will be on tomorrow's roster!
And that's the best part of fitsugar, there are always new workouts added and such a large existing library that you don't have to feel like you're constantly doing the same routine. Oh and most importantly, it's FREE!
Links