Back to school sales are happening, no sales tax weekend was this past weekend and Hubby is getting his line up ready for his plethora of fantasy football leagues. What does this all mean? It's time for me to slink into a void of despair as we embark on my most hated time of year, the fall. And what comes along with fall? Fall clothing, which I detest. So yes, that is quite a generalized, declarative comment to make, to abhor fall clothing styles. And I'm not talking about the Fall 2013 style of clothes, I'm just talking about pretty much all styles in general. So how did this Grinch who stole football season come to be? I think it's just the fact that I hate the fall. It takes me back to grade school, having to go back to school after a long hiatus called summer break. Everything of the season reminds of that overwhelmingly depressing feeling of homework, exams and just never ending work until semester exams around December. And then their is a reprieve from the mundane while we all inundate ourselves with food and presents and then back to the grind in January. But for some reason January doesn't bring about such emotions in me, just the fall.
As I was walking through Hobby Lobby the other day the intense emotion of yesteryear came flooding back as I was bombarded with all things orange and leaves. Lots and lots of leaves. I don't care for the colors of the fall, browns and oranges are just not appeasing to me. I love the bright colors of spring and summer and white, wearing lots of white. I don't like colors like eggplant and brown, yes I'm saying it again. It's just all so yucky.
Much of my disdain for the fall time also stems from the weather in Texas. It's still summer weather, and if the temperature does drop into the 80s it's still muggy and sticky. It doesn't feel cool, so what are you left to wear? Leggings and tunics only to be covered with sweat as soon as you walk outside. So can you wear your white, linen shorts and bright yellow tank top only to be shunned by the Emily Post followers? But what about when you get sick of your summer clothes, after wearing them from March-September? What do you do? And not to mention if you do go shopping for new clothes, all the stores have cold weather clothing, and we've already discussed how said attire is not accommodating for the Texas fall weather. So what's left? To shun the season all together! And no, I do not care for football, so while for others that is their saving grace, such is not the case for me.
So what are these fall styles that which I loathe oh so much?
I do not do flannel. I do not do plaid. the two together are a deadly duo. And are we back in 1990s grunge? The only thing worse than fall styles is fall styles in the grunge era.
It's the color eggplant with matching tights? Are we wearing a sweater? Bathrobe? Kimono?
And why are fall styles so frumpy? I don't even know where to start with this one, the shoes itself speaks volumes.
And don't get me started on animal prints and unfortunately fall embarks the start of animal print season.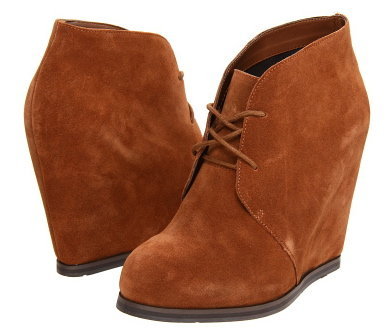 I just don't do ankle booties. What are you? A high heel, a boot? Make up your mind! And when matched with dresses, I just can't. These ankle bootie wedges to say are far too manly is just hitting the tip of the iceberg of it's putridness.
Where To Get It
And fur rimmed boots no matter how high or low are just not ok. Now, perhaps if you were trekking through Antarctica and you needed it for warmth, ok. But as a fashion statement in a Texas? That's a negative.
Celeb de la Cream
So I'm just going to lay this out straight. I'm a big believer in dressing for your shape and not just jumping the bandwagon of certain styles and to wear high boots with skinny jeans/leggings you really have to have long, lean legs. So basically, this is a style for the taller women out there. Otherwise, it just makes you look shorter with wider legs.
Chictopia
Minus the doily sweater, this boot/jean combination is actually...dare I say...cute?
Feedio
Something about this look just isn't working.
But if you are shorter, if you pair it with a tunic that goes down to your thighs, you can rock the look.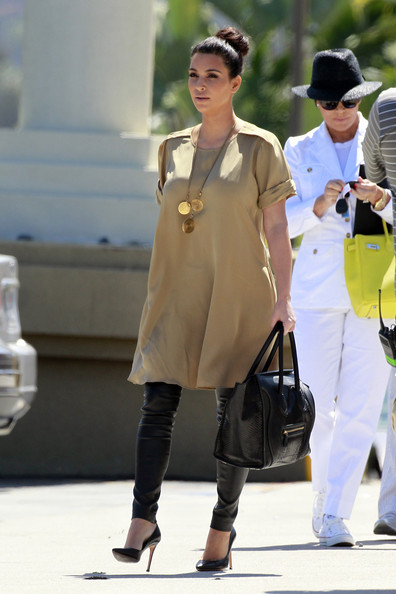 The Style News Network
We all know that Kim is on the shorter, curvier side, but when you pair leggings with a billowy shirt or dress it works. While she isn't wearing boots, she could easily add some boots to this style and it would look great.
Now, the only fall look I actually adore are long tunics/shirt dresses and my high, flat boots or flats. Their comfy yet look like you made somewhat of an effort when you actually haven't considered your hair is still up in a greasy pony tail. Unfortunately, due to the weather around here, I can't really start wearing said style until about January since that's when it starts cooling down.
I actually have an outfit very similar to this that I've worn far too much and may have to retire, but just such a simple look that can be dressed up a bit with the boots!
So as the summer slowly comes to an end and the neighborhood pools close and school opens I will not be retiring my closet of shorts and tank tops. A mere change in months will not change my attire. I will continue to swelter in the heat with football roaring on the television somewhere in my house wearing my year round attire as I countdown the days until March, when bright colors and shorts actually match the stereotype of the month.
Images