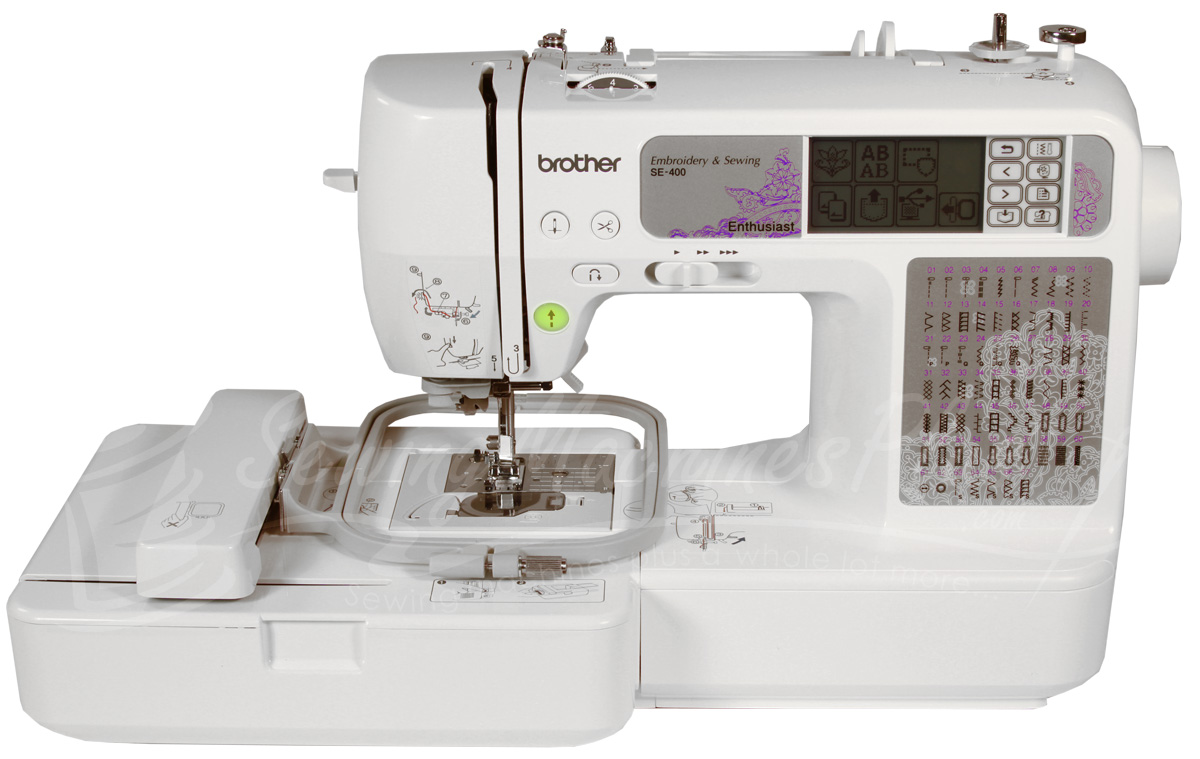 If you recall from my
no sew tote bag post
last week, artsy crafty stuff and I just aren't compatible. I don't have the patience to put together a craft, as seen with my busted sew free library bag. But that's ok! I refuse to believe that arts and crafts is something I cannot do and resort to always having to purchase said items on Etsy all the while filled with envy that they can do it but I cannot. (Nope, I have no competitive bone in my body.) If they can do it, then I can do it! So what have I gone out and done? Invested in a sewing/embroidery machine.
So when I was doing my research I was looking for a basic sewing and embroidery machine for beginners. I like branding my kids clothes and other junk (And isn't that an interest you get along with your children's birth certificates?) so I figured why not get a machine that can do such. I reviewed numerous websites and message boards and everything came back to the Brother SE 400, perfect for beginner sewers and embroiderers just like me. Everything I read said that this machine was easy to get the hang of and perfect for those that have never sewed or embroidered before. But the question remained, is it compatible with someone who is as crafty challenged as I?
So I made the purchase excited for it to come in and tracked the shipping daily. When it actually came in I was ecstatic. I opened the box immediately and looked at the manual and thought, hmm, I'm tired tonight I'll look at it later. And the next day I tried to work my way through the manual, but much to my dismay it wasn't happening. I'm not going to lie, I was a little worried that I had bitten off more than I could chew. So I called up a friend who had mentioned that she had the same machine (And she has two more friends with the same machine.) and she offered to come over and help.
So with our four kids screaming and yelling in the background, she walked me through how to use the sewing and embroidery parts of the machine. Hey, this is not so bad. Until I realized the science behind it all, i.e. picking the right thread, the right needle and ensuring that the presser foot and needle are securely tightened. Yes, I busted two needles trying to embroider when I didn't have the presser foot properly tightened. Oops! It is a learning process, right?
And so off to work I went with the start of my creations. First up was putting some baby fabric onto a burp cloth and then embroidering my friend's newborn baby's name onto it. Easy, no? No. My biggest challenge? I cannot cut in a straight line. My second challenge? I cannot sew in a straight line. How do people do this sewing thing? So many people I know are making drapes and quilts and nursing covers, I can't even sew fabric onto a burp cloth!
So the only reason these look halfway decent is because A.) they are folded over and you can't see the edges and B.) They have yet to be washed. (I have since learned about pre-washing fabric.) If I open these open these up and you see my cutting job it's horrific. I made a Minnie Mouse and Mickey Mouse one for the kids with their names on it and the cut/sew job is so bad that I will not show you, it's far too embarrassing. Sweet Pea loves hers an sleeps with it, but Bambino, the king of rags who has to take one with him to Gymboree, refuses to give it the time of day.
But unlike my elementary school self who would give up when she couldn't do something, I've persevered! I refuse to give up! I purchased the cheapest rotary cutter and mat to help with cutting in a straight line and watched some YouTube tutorials on how to cut. (How sad is that?) Sewing in a straight line is still a bit of a struggle, but I was able to use what I learned about the basics to put together a tote bag that actually withstands the library books!
I'm actually pretty proud of how it came out. I was able to use the leftover fabric I had from the no sew bag and it looks so much better. And check out the inside, another fabric than what is on the outside! (Hey, to me it's an accomplishment!)
I did make a pocket that I embroidered my name on (that you can't see), but I didn't fold down the top of it, so it's raw, stringy material hanging around, my only mistake on the bag. (How's my sewing vernacular? Am I catching the lingo? Sarcasm, people, sarcasm.) And I did want to embroider my name on the outside, but I didn't want to risk ruining it since I'm still working on figuring out needle size and fabric combination.
After finishing the tote bag I'm feeling like maybe I can do this! Hubby even had a pair of pants that had a whole in the pocket and I was able to fix it, and also sew a straight line! So next I'm going to try a quilt for my Sweet Pea with all her favorite characters, from Minnie to Dora to Disney Princesses. We'll see how it comes out. I've heard repeatedly from people that quilts are easy to do as long as you can sew in a straight line, but I can't!