And so my Bravo sabbatical has come to an end with the return of my two favorite Bravo shows, Real Housewives of Beverly Hills and everyone's favorite professional aspiring somethings (and Jax), Vanderpump Rules! Ok, so I have been watching Top Chef on Bravo with Hubby the last few weeks, but other than that I've had no reason to watch the channel, even Andy and his quaint little nightly talk show has been put to bed because I've just lost interest. But fear not, my love for Beverly Hills and West Hollywood is still going strong! I am a little embarrassed to admit that I enjoy watching a show of 20 somethings trying to make it in Hollywood, but after Kristen's multiple proclamations that she is 30, it made me feel better considering I am just three years older than her!
While it's a little late, here are my thoughts on Vanderpump Rules's season 2 premiere episode last week...
Katie has turned her hair orange. I had seen instagram photos of her blonde hair, but when her boyfriend, Tom, explains he got in trouble for referring to her hair as orange, I saw it. I hate to say it but it's bad, really bad. And in the interview shots where they do full on close ups the thick, dark eyebrows juxtaposed to the carrot top does not look good. I'm convinced that she did it to separate from Kristen. I often got the two confused last season and I think Scheana even threw that out to them during some concocted fight at the reunion.
Jen and Justin had a baby! A Sur baby! Who are they, you may ask? (Then you aren't a true Pumper, if you have to ask. That doesn't sound good, does it?) If you look at the group shot above, Justin is the one standing above and behind Lisa. And Jen was in quite a few scenes last season, long dark hair, bronze skin, kind of ditzy. Remember? Both Jen and Justin were in the Vegas episode as the back up crew who went skinny dipping. In last week's episode the Sur baby was premiered at the twinsies's birthday lunch.
Update (11/11/2013): Correction, thank you Kristen Doute for the tweet, but his name is not Justin, it's Jeremy!
Jen is the one to the left of Tina
Tom cheated on Kristen? Did Tom just tear a page out of Jax's book or are the writers just that unable to concoct a better cheating story line. Vegas? Bottle service girl? All too familiar. Judging from the previews looks like maybe this girl comes to work at Sur? Contrived by Lisa or producers at Bravo? You decide.
When did Scheana become Queen Bee? The show quite possibly could be called the Scheana show this season, a far cry from last year's Stassi and Jax show. I'm not a big fan of Scheana and her alleged pop music career. The entire conflict between her and the others is that no one called her after her six hour oral surgery that everyone thought was a basic root canal. At Kyle's party she confronts Stassi about wanting to get coffee to discuss the lack of sympathy post dental cleaning. Really? Trying hard to keep your spot on the show, huh Scheana?
Did Scheana's fiance start crying? This was by far the funniest part of the episode. (Sorry, dude.) But Scheana's fiance goes to stick up for her (And garner face time) and says something to Katie's boyfriend Schwartz and afterwards he's crying on Scheana's shoulder who is also anxious for more face time so she takes the tearful toddler to the balcony so she can console him but also ask Stassi to come back upstairs to ensure the cameras stay at her party rather than go on with the more important characters of the show. Apparently, Jax's comment about Shay and Schwartz crying over the Notebook really wasn't an attempt at a witty comment in his interview as we see so so many, many reality stars attempt and fail at (It even sent Jill Zarin packing from RHONYC), he was spot on. But seriously, homeboy can shed a tear like Ted Mosby at a wedding.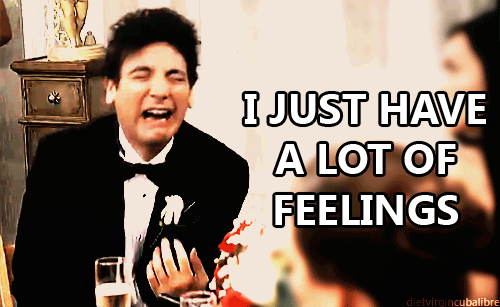 What happened to Kristen's hair? Katie's not the only one who made a bad hair turn. Usually when you have a break up with a boyfriend or some significant problem in a relationship you start fresh and look cute. Or maybe that's the problem, she needs to drop the cheater so she can look cuter. What is with those bangs? It's darker and it's at an odd length where it doesn't all pull back, but needs to. Maybe a part on the side would be better? Sorry, homegirl. You're a cute, Hollywood looking girl, but this just isn't working. Go back to last year's look.
Is Lisa the most inept boss imaginable? The number one rule as a boss is to not fraternize with the staff, it's just going to cause problems among the employees and lead to your loss of authority. I understand she's had 26 restaurants but obviously they haven't succeeded considering she only has two left. But why is she so chummy chummy with Scheanna Marie and even speaking bad of Kristen in front of her? And then she throws a joint birthday party with Scheanna and her daughter? Way to stroke one employees ego only to leave her and you hated by the rest of the staff. Looks like Lisa's RHOBH bitch edit is getting transferred over to Vanderpump Rules. Hey, whatever keeps you in front of the cameras!
Do the servers not know how to do their job? I think these "characters" are hired to play the part of a reality show star, because when Kyle came up to the staff at the end of the party and asked about clean up, their facial expressions had a mixture of dumbfounded, appalling and hell no all bound into one jaw dropping look. And then the dig of the one girl said about how she was going to make her bed just irritated me. Why are you surprised that you have to clean up when providing a catering service? Someone made a comment on whether Kyle had servants to do the clean up. Yeah, that would be you, now clean up. If you aren't really a staff member at Sur, then do your job of acting the part and clean up.
Overall, I'm a bit worried the show may have hit the sophomore slump. I'm not sure if I was oblivious to it last season, but the faux-acting is just embarrassing to watch. And not in a rubbernecking, I have to see what happens even though it could be bad, but in a it's just bad way. Kind of like last year's Shahs of Sunset, one season was enough, subsequent seasons have just failed to hit the mark and thus I don't watch anymore.
Perhaps I'm getting older and too mature for Bravo shows (Ha!) or maybe reality shows are just getting old since they have turned into reality stars attempting to act? Whatever it is, I think it may be time to bring back talented actors with fictional tales, but in the meantime I'll still watch Vanderpump Rules just in case it doesn't hit that sophomore slump!
Images