I've never had much of an accessory style, other than clothes and handbags I don't spend a lot of money on jewelry or really even shoes. (Except running shoes. Come on, they're for my health!) A cute summery, white eyelet dress, a beige, leather, large tote, now those are things I liked to splurge on. But jewelry was just nothing I ever invested time or money into.

As a child I wore the typical, girly, bright colored plastic necklaces. Pretty much exactly like these...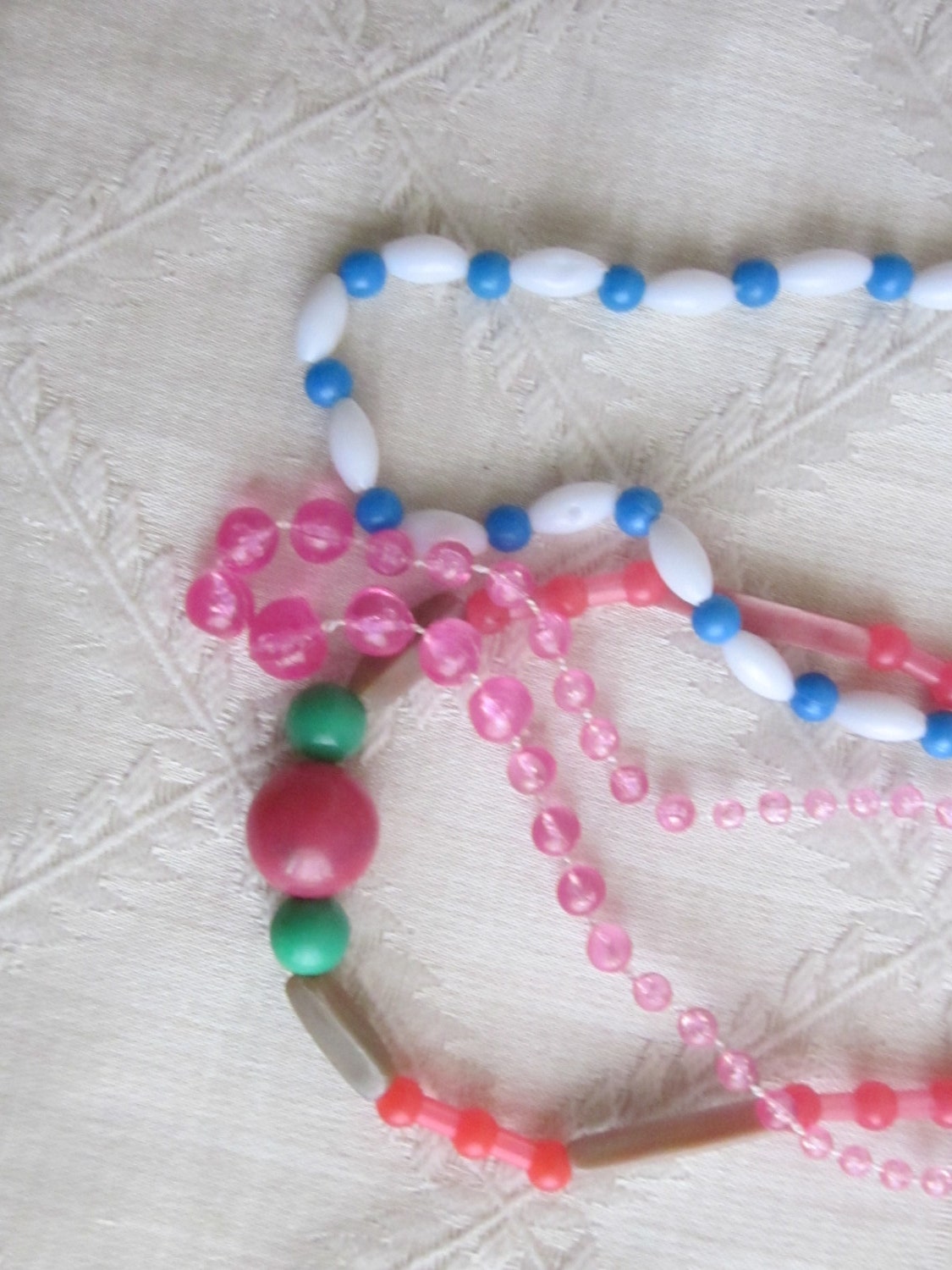 And of course, as an Indian, my mother adorned me in gold jewels for special occasions. Some were gifts from family specifically for me, and others were her pieces. I recall always wearing a pair of gold studs my grandmother had gifted me, they had red and green on them, and my mother still has them in a safe to this day! And of course there was my hat phase in 3rd and 4th grade, but I've I tried to suppress those memories, unfortunately for me there is video footage of our family trip to Niagara Falls where I am accosting my brother with my hat on the airplane. And no, we aren't speaking of ball caps.
Then through high school and college I don't recall too much of what jewelry I wore. There is one specific beaded choker I remember buying from Express, and then there was this beautiful turquoise necklace I received from a friend of my mom from Iran. Unfortunately beads have fallen off, but I would wear that one today if I could. Other than that it was all eclectic, random rings and gifts people had given me, but I never really had a style.
As a mother whose sole job is to run the household, I don't wear much jewelry. I figured the kids would just tug on it and grab it, so I've steered clear. It was nothing like giving up handbags. If anything, I liked going jewelryless because I don't like the feeling of restricted wear on my limbs and in the summertime it gets me hot even quicker. The only jewelry I do wear are my diamond studs and my wedding band. (Not even the engagement ring for fear of it being ruined! I save it for special occasions.)
But recently I've found an appreciation for accessories. I see how much it can change an out fit from drab to fab. (Did I just use that phrase that I'm pretty sure I've heard Clinton Kelly say on What Not to Wear?) But seriously, I do see how you can take anything you have in your wardrobe and simply change the look by the accessories. Jeans and a black shirt? Throw on Toms and your Ironman watch, go to HEB.Throw on heals and some large bedazzled earrings, dinner time. So it's not so much about investing money in your clothes, but more in your accessories. As a mom that wears shorts and v-neck $8 t-shirts from Target, I love how jewelry can change it all up!
So now I feel like I haven an entire accessory wardrobe to build in my closet. But the trick is finding beautiful pieces that fit your personality at a reasonable price without looking cheap. See the struggle I have? What is my style? And what is a reasonable price?
So this past weekend I went to one of my favorite stores that I used to shop at in the city before I got married, Francesca's. The store has since franchised times ten and they've opened one in my suburb, right around the corner from my house, yay! So here are two items I purchased there for my clean slate of accessories...
The necklace has a soft vibe and can easily add some excitement to a simple colored dress. Sadly, Bambino has already pulled out one stone the one time I wore it. Luckily, it appears that I can get it clicked back in easily.
I purchased a wrap watch similar to this, except the watch was circular and it was a pink/peach color. Not quite my normal style. The studs make it far more edgier than my simplistic style. Sadly, from washing my hands so much the edge of the watch is starting to look a little worn, after wearing only three times !
And so apparently Francesca's is not the place to go to by jewelry, while it may be cheaper it does not stand up to a mommy lifestyle. So I've started looking around at some styles and brands that I hope would last a little longer, but not to exorbitant in price, but also represents me.
I love the simplicity of this and I've always loved gold, takes me back to childhood.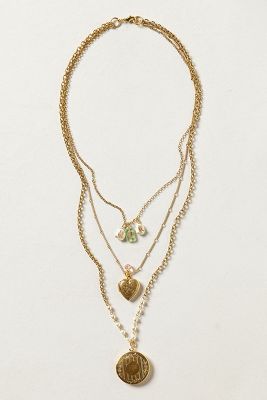 I've always loved the layered look, I tried it with three separate necklaces once and by the end of the day it was all a tangled mess. Typical me.
This is the perfect pair of earrings that could spice up a simple outfit. Perfect for those weekend birthday parties at Chuck E. Cheese. (You think I'm kidding, I'm not.)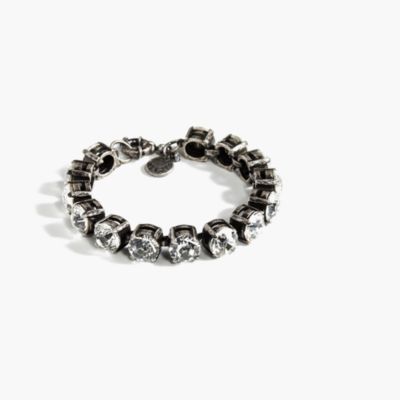 This Swaroski crystal bracelet is just breathtaking, initially I thought it was cubic zirconia which I am anti, either go for a diamond or don't wear it at all. But as crystals it gives it another look.
Do it Yourself
I came across this bracelet on Pinterest I love just how unique it is. Seen from the photo it appears that it can be worn with my mommy uniform! Unfortunately it's do it yourself, which I am incapable of doing. Did you not read about my layered necklace debacle?
Pinterest
I saw this photo on Pinterest and I just love this style! The chunky watch with the plethora of bracelets, ahh my work is really cut out for me. Along with my wallet.
Michael Kors
This ring is so casual and perfect for everyday wear. Come on, it's a ring that looks like a belt! How kitsch is that?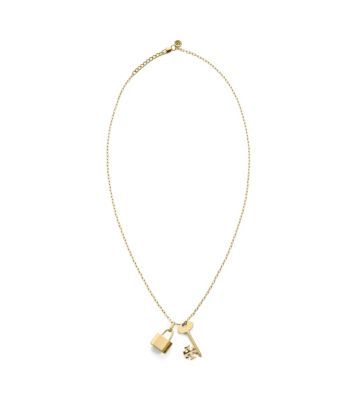 Tory Burch
This lock and key pendant is too cute. Very delicate and simple. Love
H&M
Can you believe this bracelet only costs $3.95 and it's not even on sale? Simple with a splattering of color, love it! But my guess it's only going to last one wear.
Kate Spade
I love these multi-spring colored earrings! Perfect with a plain white dress for the summer!
I'm really into these stackable rings, other than my engagement ring and wedding band I've never gone stackable before, but this is definitely doable.
This 5-row line bracelet is the perfect buy! Looks like you've got more bracelets on when in actuality it's just one. And only $28 from Nordstroms, that's a steal!
I'm finding that I really like Kate Spade jewelry. This one would be gorgeous over a solid color top or dress.
Normally hoops aren't quite my style, but I really like the beads on the bottom. I could be persuaded to wear hoops if I had these.
So I'm seeing that my accessory style is simple, soft with a splash of color. While I do like the chunky bracelet look that is the trend right now, I just don't think that's me. My look is more minimal with maybe one loud piece, like one chunky bracelet as oppose to ten or a statement necklace while wearing studs and just a watch.
So now my plan is to find deals as I shop to build my jewelry case. But not too cheap a deal because my costume jewelry of the past has always has a tendency to fall apart thus leaving me in the position I am now, basically jewelry-less. Wait a minute, that should have been a sign for me not to shop at Francesca's!

So now if I can just figure out how to make this stuff baby-proof.
Images